Take a Trip to St. Barth
Both islands have great dining and tropical weather. Anguilla is flat, St Barth is hilly. Anguilla is quiet and simple. St Barth is hectic and cosmopolitan. Anguilla has the better beaches and St Barth has the better shopping!
How to describe St Barth? Think of an upscale French St. Martin: high energy, clean, mountainous, sophisticated, charming houses with red roofs, yachts, expensive, more developed and noisy than Anguilla.
It is quite possible to take a day trip to St Barth from Anguilla, or even combine the two islands into a single vacation. St. Barth is an interesting visit ... for exploring the island a rental car is a must. All the companies have booths at the airport. Drive cautiously, as roads are narrow, hills are steep, and traffic can be fast:
"All I know is that the drivers are insane. Renting a car? Drink plenty of coffee and be very alert! I thought I'd be OK since people drive somewhat aggressively in California, and I've been accused of same, but it was Grand Prix time. Do come back alive!" Mark
St Barth has many beaches, but they are not the reason to go, as they are not up to the standard of Anguilla beaches. Instead, enjoy the dining, nightlife, shopping, and the European village atmosphere. St. Barth has excellent fishing charters as well, including flyfishing for Tarpon and Snook, plus Marlin fishing.


St. Barth has a wide range of dining choices (even Thai and Vietnamese). Prices are about the same as Anguilla at high-end restaurants. For an upscale beachfront lunch, a traditional choice is Eden Roc. The waiters and the menu are very sophisticated and there is water misting to keep you cool! Very expensive.

One of our readers suggests Le Toiny, where we have also had great meals:
"Lunch at Le Toiny is a must. If overnighting - must stay here...worth the price; you get what you pay for. Very private, each room with pool. Very together place with an exceptional staff. David Henderson, the resort General Manager, makes you feel as if you are his personal guest in his home!" Gary
Le Toiny is often paired with Cap Juluca in people's minds as an ultimate vacation duo. This luxury resort covers an entire hill-side above the sea in a quiet part of the island.

For great food, friendly service, and low prices, we recommend Andy's Hideway in St Jean. This is a casual place with French cuisine, in a shopping area, with a very fun atmosphere. Lots of locals have lunch here.


Gustavia, the capital, has fun nightlife during the tourist season and on weekends, with several places within easy stroll of the inner harbour for live music and dancing.
Gustavia is quite quaint and charmingly French…just perfect for a browse. The dining is excellent (just up the hill are Carl Gustaf hotel and La Mandala).
Gustavia is built around a beautiful harbor that is packed with yachts of all sizes during the season (up to 300 ft long!). The seaside is lined with shops, restaurants and bars.

Getting from Anguilla to St. Barth


The easiest way to get to St. Barth is via Anguilla Air Services, a 12-minute flight from Anguilla. As a bonus, the flight provides a very exciting landing: you head into the saddle between two hills and then immediately drop to the runway. Don't worry. If your flight should overrun the airport, your plane will come to rest in the sands of St. Jean beach:
"No trip to St Barth's is complete without going to the hill above the airport and watching the planes come in. They clear you by what seems to be only a few feet. It was always a favorite trip for us and our children." Lynn
Direct flights from Anguilla to St. Barth make it a convenient day trip.
Boat trips from Anguilla and from St. Maarten are also available. The trip is over an hour long each way and the sea conditions can be rough at times. The Voyager leaves from St. Martin Marigot dock and M.V. Deluxe leaves from Anguilla.

Staying Over


There are hotel options in most prices, plus hundreds of villas for rent. If you don't have the budget for Le Toiny, we can recommend a charming, one-bedroom villa: Villa La Siesta was in an amazingly quiet residential area, with expansive views over a rural valley to the sea. It was wonderful to come back from shopping, traffic, excitement and noise, to this refuge.
Or stay at Azu Villa, near the center of the action in St Jean village, with incredible views and totally privacy. Walk to restaurants, shops and the beach.
To buy food, visit Match supermarket across the street from the airport (you need a 1 Euro coin to rent a cart). Maya's To Go near the gas station is an excellent deli, as is La Rotisserie in St Jean.
Power is European 220V, not 110V. Visitors from US, EU or Canada need a passport. Others need a visa. For local calls, dial 0590 + 6 digits. To call St Barth from Anguilla or the USA, dial 011-590-590 + 6 digits.
To discuss St Barth with other travelers, visit this discussion forum.
Here is an excellent report on a St. Barth vacation.
Story by Bob Green and Janine Edwards. Pictures by Nancy Pfister
---
Brand New: Spyglass Hill Villa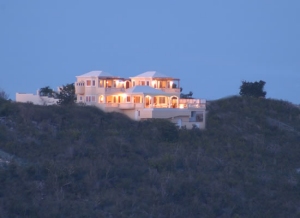 Ian "Sugar George" Edwards and his wife Janine are delighted to announce the opening of Spyglass Hill Villa.
This residence has been a labour of love of Ian, Chief Designer and Builder of The Sunset Homes Group of Companies. Sugar George put a lot of thought in creating the concept, model and architectural drawings of this home and then masterfully executed the construction with an exquisite "finish".
The architectural features and building materials were carefully selected to create an elegant, indoor-outdoor ambience.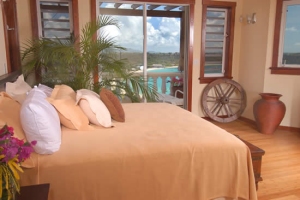 The hours spent surfing the net for the finest finish materials and scouring the beaches for the perfect rock were part of the experience. Hardwood doors were hand-crafted by the crew and decorated with antique ironwork hardware; hand-made wood trims edge windows and doors; natural stone (travertine, cobblestone and indigenous Anguilla rock) pave some areas, complemented by elegant bamboo floors; logs were specially carved to form the roof; hours were spent locating the perfect copper kitchen sink …all just a glimpse into the energy and passion put into the project.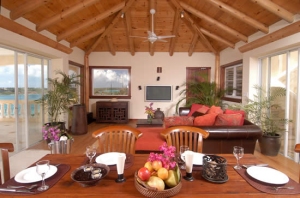 The building stages of the project have been documented step by step over the months at Sunset Homes web site offering insight into building an Anguilla home.
The same detail is mirrored in the fine selection of interior amenities and furnishings. Spyglass Hill is the choice setting for a truly memorable vacation experience. To view the villa: www.spyglasshillanguilla.com
Available for Thanksgiving!
---
Farewell to Nurse Lloyd
June 13, 1933 - October 20, 2003
Mrs. Vida Lloyd, also known as Nurse Lloyd, suddenly passed away on October 20, 2003. "Nurse", as she was affectionately called, touched many lives in her lifetime. She was a gentle soul…soft-spoken with a powerful presence which attracted much respect and admiration among her family, friends, employees, colleagues, patients and guests.
Her distinguished and dedicated service in the nursing and public health arena in Anguilla and St. Kitts, arise from her unusual compassion and selflessness.
She began her nursing career as an Assistant Nurse at the Cottage Hospital in May of 1952.
Towards the end of the year she traveled to St. Kitts to pursue training in general nursing and midwifery. She spent the next 9 years at the Cunningham Hospital.

In September of 1961 she accepted a scholarship to purse a Management Course for Nurses in England. Upon return to St. Kitts in 1962, she was promoted to the position of Ward Sister. Also in 1962, she married Mr. David Lloyd and three months later took up a position in Anguilla as a Staff Nurse-Midwife.
Nurse Lloyd continuting training throughout her career and transferred to Community Nursing - District Nurse and worked her way up to Senior Nursing Officer.
The picture to the right shows Nurse Lloyd with her two children, David and Christine.
In her latter years, Nurse had another successful career in the hospitality industry with Lloyds Guest House. After her husband's death, she was the lifeblood of Lloyd's Guest House.
Lloyd's was the first hotel on the island and up to today it still maintains excellent standards.

Services were held at Ebenezer Methodist Church in The Valley, with a crowd that spilled out of the church.


The family-run property first opened its doors in July of 1959 as a 10 room guest house, built by Owner and Manager David S. Lloyd, late husband of Nurse Lloyd. Mr. Lloyd, a successful General Contractor, realized the need for Anguilla to have tourist accommodations during his years of involvement with the Federation of West Indies in the late 1950s and early 1960s. With no electricity and no telephone system on the island, Lloyd built the guest house to be a full service establishment that would provide guests with three home-cooked meals a day, as there were no restaurants on island. All for the price of US $8.00 per day!

Lloyd's is a haven for many seeking the ambience of a traditional West Indian home away from home. Vida's warmth and passion to take care of people was felt by all. She especially liked to make sure all her guests were well fed….a warm meal always awaits at the Lloyd's family-style dining table. Her children Christine and David grew up in and also help out in the family business. Her friendly employees Merlene, Hosapha and Fostina have been with Lloyd's for 15, 18 and 24 years respectively - testimony to the great care she took of all around her.

Pictures from Nurse Lloyds 70th birthday party at Cuisinart:

Bob and Mary Ann Green - Past Guests at Lloyd's and Personal Friends:


"The photo to the right is a typical view of Mrs. Lloyd, greeting guests on the porch."
"Our favorite place to stay was Lloyd's Guest House. Lloyd's was the first hotel on Anguilla and is still probably the friendliest. We've stayed there many times. Lloyd's is old-fashioned, comfortable, and very reasonable. More like a Bed and Breakfast than a hotel. The rooms are spotless, but small. Staying at Lloyd's is a cultural experience. The best part of staying at Lloyd's is Mrs. Lloyd. She looks after you like your grandmother. The food is good, basic West Indian cooking and you can have tea or coffee anytime you want. Family-style dining makes it easy to meet the other guests, including many local Caribbean people: teaching supervisors from Barbados, the Bee Man from Nevis, radar technicians from Antigua, etc."
"Mrs. Lloyd has the ability to make everyone who stayed at Lloyd's feel special.
When we stayed there, Mrs. Lloyd always came to the porch to greet us and had a cold pop for us when we came back hot from our explorations of Anguilla. She served us afternoon tea and cheese, because we were Canadians. Later, we were surprised to see that she treated everyone the same way, as if they were her favorite nephew or niece. When a professional baker was staying at Lloyd's, she made a point of getting some special breads from Koal Keel bakery for the guest."
Rita Dispensa explains why she keeps coming back to Lloyd's Guest House, several times a year:
"... I first heard about Lloyd's because as a woman traveling alone

I needed a 'safe' place to stay (I had a bad experience or two at another place). One of the best things about Lloyd's is that it's like being in an Agatha Christie novel - you never know who you will meet in the lounge or at the dinner table. No matter what time of year that you come, there all kinds of interesting people that come through the doors - maybe only overnight, maybe longer. Vida Lloyd seems to have a way (or provide the atmosphere) where people from all different walks of life and backgrounds just seem to get along. And maybe one of the biggest items, at least for me, is that you get your privacy - you can leave your items in your room and not worry - her girls, Merlen and Hosepha are always polite, helpful and just plain fun."

Just last year, Nurse Lloyd received two distinguishing awards. The Caribbean Tourism Organisation honoured her for her contribution to Anguilla's Tourism industry and The Pan-American Health Organisation (PAHO) recognized her outstanding contribution to public health. To the right is a picture from the PAHO Awards Ceremony in her honour.
Here is a collection of the News.ai stories done on Lloyd's ahd Nurse Lloyd over the years:
Lloyd's Web Page
Article on Lloyd's
40th Anniversary Article
40th Anniversary Tour
Article on Nurse Lloyd's Tourism Award
Nurse Lloyd's influence on her family, her church and community can only be described as legendary. Her spirit will live on in our hearts.
Story by Janine Edwards
---
Weather in Anguilla
| Weather Summary | Satellite |
| --- | --- |
| Sunny 82F 27C 68% Humidity, | November 1 |
| Low temp since last news report | 82F 27C |
| High temp since last news report | 86F 30C |
| Low humidity since last news report | 66% |
| Tropical storm web sites | Link Alt |
| Anguilla weather forecasts | Link Alt |
---
Anguilla Daily Diary
Here is a day-by-day compendium of news items, as we gathered them - starting with the most recent.

October 7, 2003 to November 2, 2003
Saturday, November 01, 2003
Animal Rescue Newsletter:

Fund-raising raffle: 7-day Carnival Cruise for two in the Caribbean, beginning July 10, 2004 and leaving from San Juan. Includes roundtrip airfare from Anguilla to San Juan.
......Permanent link for this news item.

Friday, October 31, 2003
Auction: Shoal Bay Villas

The AHTA is holding another auction: a week for 2 in a beachfront unit at Shoal Bay Villas, valid May 1, 2004 to August 31, 2004. Bidding starts at $300, but there is already a bid of $325! What does that work out to per day?
......Permanent link for this news item.

Wedding Photos at Shoal Bay

The Forni wedding, photos by Chris Mason.
......Permanent link for this news item.

Menus Web Site Updated

We have updated our www.menus.ai web site, checking all the phone numbers, deleting restaurants that are gone, checking all the web links and deleting dead ones, and adding a few restaurants that we had missed. Then we surfed the net for restaurant reviews and added those links as well.
......Permanent link for this news item.

Anguillanet Email Bounces?

The Cable & Wireless email server in Anguilla has been down a couple of days, so if you write people with Anguillanet addresses they have not been able to access and respond.
......Permanent link for this news item.

Question About Premium Gas

We're thinking of bringing our 1983 BMW when we move to Anguilla and were wondering if you can buy premium gas there?

Answer: the gas staions only offer regular non-leaded gas. However there are many people on the island with more modern BMWs and they use the regular gas.
......Permanent link for this news item.

Thursday, October 30, 2003
The Pumphouse Annual Halloween Party

Oct 31, from 10pm. Music by DJ Claudius. and good food from 5pm to 11pm. Prizes too!
......Permanent link for this news item.

Crusoe's @ Sandy Island

Doris Brooks writes: We are happy to announce that beautiful Sandy Island has re-opened its restaurant and beach-bar Crusoe's. Beginning at Nov. 4th the place will be opened every Tuesday, Thursday and Saturday for the starting season. (For further announcements pay a visit to our office down in Sandy Ground, next to the police station).

Boat shuttle service is available from 10.00 a.m. till 2.00 p.m., leaving from the small pier in Sandy Ground. Just give us a call at our cell. 772-0787 or 772-0542 and the boat will come right back to pick you up. A round trip is US$8 p.p. Also, we gladly do special arrangements such as fishing trips, birthday parties, wedding arrangements and other family events. Just get in contact in advance, we surely make it possible!

Our menu has been extended with a wide range of different salads such as Chicken Salad, Fish Salad or Lobster Salad, as well as delicious Ham-and Cheeseburger's. Still we offer the best of BBQ Chicken, Ribs, Fish and Lobster! All dishes are freshly prepared and served by our charming and friendly staff.

Come and make your holidays perfect, feel like Robinson Crusoe for a day and drift away......explore the fascinating underwater-world and snorkel around the unique reefs of Sandy Island. We are looking forward to see you there!! sandyislandenterprises@hotmail.com
......Permanent link for this news item.

Zara's Reopens Sat Nov 1

Shamash is back and reopening Zara's Restaurant (at Allamanda Beach Club, Shoal Bay) this Saturday.
......Permanent link for this news item.

New at E's Oven

E's Oven has added some interesting features for the coming season. They are offering a new and extensive menu which includes the Executive Chef's "Garlic Crusted Crayfish Tails" as aired on the television program "Great Chefs of the Caribbean". The wine list has been expanded and enhanced. They've also included an "At the Bar Menu" – chicken wings in a mango sauce ($4), meatballs ($5), pork spring rolls in a soya port ($6) and fish bits in tartar sauce ($7). Creative Bartender Specials include E's Smile and Anguilla Breeze. E's Oven opens every day except Tuesday for lunch and dinner from 12 noon to 12 midnight. Happy Hour is held on Friday from 6pm – 7pm. Now on display at E's Oven are the tools used in the traditional West Indian stone oven. Tel. 498-8258.
......Permanent link for this news item.

Wednesday, October 29, 2003
Charming 2 Bedroom Apartment for Rent centrally located in a tranquil setting in Rock Farm. Features include: Two spacious bedrooms: one is 24 ft. x12 ft. and the other 16 ft. x12 ft. One main bathroom connected to both bedrooms. One powder room. Generously proportioned common living areas: Kitchen/Dining room is 23 ft. x22 ft. and step-up living room measures 23 ft. x17 ft. Laundry room. Semi- furnished with beds, dining table, stove, fridge, living room set and washing machine. US$650.00 per month includes cable TV. Contact: hwallace@anguillanet.com
......Permanent link for this news item.

Watercolor Workshop November 3-7

Garve Beckham will be in Anguilla for his second year teaching an on-site watercolor workshop November 3-7, 2003. The workshop will be based at Villa Romeo in Sea Rocks, with on-location painting for the bulk of the class. Garve is a superb and very popular teacher. He works well with students at all levels -- beginner to advanced -- in the same class. Each student receives a substantial amount of individual attention. Samples of his work can be viewed at: http://edge.ai/article/articleview/246/1/139/

The cost is $150.00 for the week, with full-day instruction from 9:00AM to 4:00PM which will include professional critique of each student's previous-day's work, a detailed demonstration by Garve, and student painting in the afternoon.

If you are interested in joining this workshop, contact me (Bethany Riskin) at 497-4499 or email to bethany@edge.ai.

Biography of Garve Beckham, Watercolor Artist

While studying architecture, Garve Beckham began his serious move toward art when he explored lower division painting and drawing at the University of Oregon, which gifted him with an excellent background in texture, composition, perspective, color and value. Beginning in 1970, he took his first class in watercolor from Charles Mulvey, a world-renowned watercolorist. Mulvey's spontaneity and style of producing pure, transparent watercolors had great appeal for Garve, and he has since had no desire to attempt any other medium. In the ensuing years, he has taken workshops from such prestigious American Watercolor Society artists as Zoltan Sabo, Joe Bohler, Rex Brandt, George Post, Bud Shackelford and George Hamilton.

Garve taught his first watercolor painting class for Portland Community College in 1972, where he taught continuously for 25 years. Since 1997, Garve has taught for Clackamas Community College, Tillamook Bay Community College, Oregon Society of Artists, and most of the major art groups in the Portland, Oregon area, such as the Portland Fine Arts Guild, the Buffalo Grass Society, and Lake Oswego Artists. He remains the most sought-after teacher at the Oregon Society of Artists and Portland Fine Arts League, consistently attracting the largest classes. Garve has also taught many summer workshops both in the U.S. and abroad. In his workshops, he explores the basics of good painting as well as the more elusive elements of passion, mood and feeling. Garve teaches by example with daily morning demonstrations and discussions explaining his philosophies and techniques followed by on-site painting where Garve assists each student individually. At the end of the day, a critique session is conducted in which each student's work is evaluated and given positive suggestions for improvement.

Garve is an award-winning artist of the Watercolor Society of Oregon, as well as the Oregon Society of Artists. He also served as president of Oregon Society of Artists for two years, the Vice President of the Watercolor Society of Oregon and has recently assumed the presidency of the WSO. Garve is a charter member of the oldest and most prestigious critique group in Oregon. The group currently has three members who are signature members of the American Watercolor Society.

Transparent watercolor is Garve's passion and he will pursue it as long as he can hold a brush and see the watercolor paper. You will enjoy taking a workshop from this fine artist and teacher.
......Permanent link for this news item.

Overlook Restaurant

Web site.
......Permanent link for this news item.

Monday, October 27, 2003
Coffee and Croisssants at Irie Life

Irie Life is expanding its operations and will soon be opening its second location in Sandy Ground. Starting the first week of November they will be serving coffee and croissants in the mornings at their Sandy Ground spot located next to Johnno's.

Irie Life did a cool Tshirt this year called "Wrecks and Relaxation", which lists eight of the more well known dive sites here around Anguilla. This shirt will be on sale exclusively at their Sandy Ground location. No trip to Anguilla is complete with out a Goat Crossing T shirt...one of the most popular Anguilla souvenir designs around!

Please note that Irie Life is not listed in the phone directory! Irie Life phone #s are South Hill 497 6526 Sandy Ground 498 6526. Email: irielife@powerantilles.com
......Permanent link for this news item.

Splash! Villa Upgrades

Splash Villa is pleased to announce that it has added two great new amenities for the upcoming season. Two bedrooms now have air-conditioning and the pool deck has more shaded area with the addition of bamboo covered pergolas.
......Permanent link for this news item.

Thanksgiving Special: Sur La Plage Villas

Villa rental from $250. per night (rates apply to 5 night minimum stay and do not include 18% tax and service charge. Valid from November 25 thru December 2, 2003) Relax this thanksgiving in the privacy of your 2, 3 or 4 bedroom villa on the beach at Meads Bay, Anguilla. Call (264)497-6598 or e-mail surlaplagevillas@aol.com
......Permanent link for this news item.

Island View Apartments: new web site

3 bedroom apartments on Crocus Hill, overlooking Crocus Bay and The Valley. If you can move quickly, the "Specials" tab offers a 50% discount for online booking, but bookings must be made by midnight Oct 31, 2003.
......Permanent link for this news item.

Sandy Hill Resort

An oceanfront condominum resort steps away from the beach at Sandy Hill. One, two and three bedroom ocean view units, Italian design kitchens, and baths with imported Italian ceramic tiles. 40 x 20 pool. Units available for rent ($120 to $270 per day) and for sale ($140,000 to $260,000). New web site.
......Permanent link for this news item.

Famous poet, comedian and motivational speaker Paul Keens-Douglas from Trinidad and Grenada appeared at Cocolobo last Friday Night, at a fund raiser for Anguilla's Family Hope Network (to end domestic violence).

The large audience enthusiastically enjoyed his storytelling and humor. A bonus were the performances by Calypso King (and Queen) Lady Messenger, young calypsonian Island Girl, and the All Ah Wee Theatre dance company.

All in all, an incredible evening.
......Permanent link for this news item.

Sunday, October 26, 2003
Pressure King Memorial

Saturday evening there was a memorial for Roger Clarke (Pressure King) at Shoal Bay Beach.
Saturday, October 25, 2003
Tranquility Jazz Festival Update: November 14 – 16, 2003

Excitement is building as Anguilla gets ready to stage the First Ever Annual Tranquility Jazz Festival.

The organizing committee is now working on creating the venue which will comprise a bamboo enclosure featuring a VIP area, Sponsors' arena, a Food Court manned by a selection of Anguilla's top Chefs, and an Art and Craft section. Flambeaus will line Road Bay in Sandy Ground…creating the perfect romantic setting for the premier event.

The overall theme of the event is "Straight-Up Jazz" with Bebop jazz on the Friday night event, with a touch of Latin Flavour on Saturday evening, topped off by Jazz in the Sun, a beach lime on Sunday.

The committee has been active in significant promotions within the region in islands like St Maarten, British Virgin Islands and St. Thomas. International promotions are being spearheaded by BET Event Productions and Anguilla's Overseas Marketing Representatives.

For more information on the line-up check the Official Tranquility Jazz Festival Website, this Anguilla Guide article, and this article from The Anguillian. Background information from 2002: News.ai article and another. P.S. Tickets can be bought online!
......Permanent link for this news item.

Friday, October 24, 2003
Oct 29: Learn to Relax Through Music!

Relaxation session led by Margaret Ouwehand. Through music you will learn to relax your body from the tip of your toes to the top of your head!

When you feel stressed out and you want to relax but can't then try this new method, which is also a very old method. You will hear a soft melodious voice teaching you how to relax starting with your toes and work up to your head. By the time the program is finished you will feel so relaxed and all you did was enjoy the moment. Nothing to bring but a beach towel and a pillow if you would like to lay down. A donation of 10.00 E.C. dollars for the Soroptimist Club will be appreciated. Date: Wednesday October 29, 2003 Time: 7:00- 8:30 p.m. At the Soroptimist day care center hall. Doors will close at 7:30 p.m.
......Permanent link for this news item.

Wednesday, October 22, 2003
New: Best Buy Supermarket

There is a new supermarket in the Rainbow Isle shopping mall on Long Path.

It has very good selection, and very good prices on many items.

And, the market is open on Sundays until 8pm! (It is closed Sat except for 6-8pm).

Tel: 264.497.4444
Hughes Surgical Arts

New web site for the practice of Dr. Lowell Hughes from the Hughes Medical Centre.
......Permanent link for this news item.

Tortue Villa - Shoal Bay

Here is a new web site for Tortue Villa on the coast just east of Upper Shoal Bay beach. 8 bedrooms and two pools. This villa can accommodate multiple families travelling together as well as large families. There are two floors to this villa and each boasts a wide verandah for relaxing and soaking up the views of Shoal Bay.
......Permanent link for this news item.

Monday, October 20, 2003
Pressure King Memorial

There will be a memorial for Roger Clarke on Shoal Bay Beach (near Uncle Ernies) at 5pm, this coming Saturday, Oct 25.
......Permanent link for this news item.

Terra Firma Villa

On the waterfront in Harbour Ridge, with a pool. Villa includes three air-conditioned bedrooms and three bathrooms in the main house, and cozy studio apartment. Full kitchen, living and dining area which opens onto the main deck and pool area. Private pool of 3700 sq ft with Brown Jordon outdoor furniture. Spectacular views of Island Harbor beach, and up towards Scrub Island. Concierge service available.

New additions since the last ownership are as follows:

New bathroom in main house
Balcony of glass blocks replaced with bannisters
Landscaping enhancements with irrigation system
Planter at the entrance to enhance privacy
New furniture in bedrooms, living area and patio.
......Permanent link for this news item.

Thursday, October 16, 2003
Cap Juluca Voted #1 Caribbean Resort

Readers of Condé Nast Traveler have voted Cap Juluca, Anguilla the best resort in the Caribbean. With a rating of 94.5%, it is also the nineteenth best hotel overall in the world. Results of the "2003 Readers' Choice Awards" are published in the November issue. For the Condé Nast Traveler award, resorts were rated in the categories of rooms, service, food/dining, location, overall design and activities/facilities. This latest recognition is the fourth major accolade received by Cap Juluca in the past year.

"Cap Juluca has had a banner year. We owe a great 'thank you' to our guests who took the time to cast their votes for us; to the hotel's owner, Dion Friedland, who has had tremendous confidence in us over the years; to the travel agents; and to our dedicated teams in Anguilla and around the world, whose efforts and hard work enable us to achieve such recognition," said Eustace Guishard, General Manager.
......Permanent link for this news item.

More on The Pumphouse

The new chef Ryan Foley has made some changes to the kitchen and menu. As well, there is a new kid's menu, and they will be opening for lunch at the beginning of November. Music at nights starts again in November as well.
......Permanent link for this news item.

Conde Nast Eassy Finalist Leaves for St. Thomas Competition

Anguilla's finalist in the Conde Nast Essay competition, Ms Nina Rodriguez of Morris Vanterpool Primary School left the island on Tuesday, 14 October to attend the 16th annual Conde Nast "My Caribbean" Essay competition in St Thomas, US Virgin Islands. Ms Rodriguez, who is chaperoned by her father, Raoul Rodriguez (chef at Hibernia), will join her counterparts from 24 CTO countries for the three day program which forms an integral part of the Caribbean Tourism Conference (CTC) events.

As Anguilla's finalist Nina will be an honoured guest at a welcome dinner for Finalists and Chaperones hosted by Conde Nast and the CTO Ministers and Directors of Tourism at the Inn at Blackbeard's Castle in Charlotte Amalie. She will also participate in a number of other events including the official Opening Ceremony for the Conference, a tour of Government House, a trip to coral world, a Pool Party and the Official Conde Nast Essay Awards Ceremony at Marriott's Frenchman Reef Resort.
......Permanent link for this news item.

New Web Site: Devonish Gallery

A new site, now with Flash effects, has been unveiled for this art gallery in the West End. The Devonish Art Gallery and Something Special in West End have reopened for the season. New items arriving weekly and items on sale. Hours: 9:00 AM to 5:00 PM. Gifts and art and craft from the Caribbean. For additional information call 497-2949.
......Permanent link for this news item.

Ambrosia Villa

Five-bedroom villa on the coast near Shoal Bay beach. Swimming pool.
......Permanent link for this news item.

Saturday, October 11, 2003
A Wedding

Pictures of a wedding at our place last week. Very romantic!
......Permanent link for this news item.

Friday, October 10, 2003
Road Well Cafe Pre-opening Celebration

Saturday, Oct 11, 8pm, Join them for some fun with the "Happy Hits" string band. Sandy Ground.

Hot new season...rearing to go! Roadwell Cafe, Sandy Ground, Pondside East. Our popular breakfasts feature saltfish, plaintain, pancakes and eggs. New: Dinner to die for! Fresh salads, Grilled Chicken or Steak, Local Fish (Steamed or Fried). Live music. New: 9 Hole Pitch & Putt Golf. Check Clubhouse or Roadwell Cafe for details on rates for Green fees, golf balls and club rentals. Spirit Eye Tours - Call John or Diana. Tel. 497-3210
......Permanent link for this news item.

Thursday, October 09, 2003
Flavours Restaurant.

The Management and staff of Flavours Restaurant thank everyone for their support and advice during their first season in operation:

"It was a very challenging season but one that we have summed up from all of the constructive criticism and advice capitalizing on it to make the upcoming season a better one. We have not expanded the restaurant but have shifted the bar to a different location and have opened the store room and turned it into a cozy lounge area. The kitchen of course we expanded and hope it will be more efficient this year. Our menu has been altered to suit the demands but we are still local with a little flair. We will be reopening on Oct 23rd 2003 for dinner only. We are looking forward to a good season and your continuous support. Please spread the word."
......Permanent link for this news item.

Altamer Restaurant.

Altamer's Restaurant will be opening on Sunday, Ocotber 26th, 2003. They welcome all new and past patrons to join them in the 2003 - 2004 season.
......Permanent link for this news item.

Wednesday, October 08, 2003
Casa Nadine

Nadine Gumbs writes that the new number for the guest house is 264-772-2517. And she is planning some renovations, so keep posted.
......Permanent link for this news item.

Anguilla Chefs at "Taste of the Caribbean"

The Anguilla Culinary Team, composed of Vaughn Hughes, Sherman Niles, Shaun Hodge, and Joyah Gumbs, earned a silver medal at the Caribbean Food and Beverage Awards of Excellence among 11 Caribbean national teams at the Renaissance Jamaica Grande, Ocho Rios, Jamaica, October 2-5, 2003. The winning menu consisted of: Pan Seared Napoleaon Snapper with wilted Spinach, served with Banana Soursop Rum Sauce and topped with Fried Yucca (starter); Stuffed Chicken Breast with Crayfish and Stewed Curry Chicken served in a Fried Plantain Basked, with Mixed Baby Greens (main); and Anguilla Sweet Potato Coconut Conky Dumpling, served with Guava Ice Cream and Anguilla Pyrat Rum Sauce (dessert).

In addition, Alexandra Ballin, bartender at The Pumphouse, earned honors in mixology with a silver medal in the Bartender Competition and an award for the Most Creative Non-Alcoholic Drink, for her cocktail, "Mango Massage."

The awards, highest honors for food and beverage professionals in the Caribbean region, culminated three days of events at Taste of the Caribbean, annual showcase for the development and refinement of Contemporary Caribbean Cuisine, sponsored by the Caribbean Culinary Federation (CCF) and the Caribbean Hotel Association (CHA). "The sense of camaraderie among the participants was outstanding. We demonstrated our personal best and exchanged skills and information with a network of professionals, members of the press and the public, all of whom share a common interest in the culture and cuisine of our region. It was an inspiring and educational experience for everyone who attended," said Peter Rousseau, President of CCF.

The competition brought teams of chefs to Taste of the Caribbean 2003, for qualifying rounds of "live kitchen" competition in which each team prepared a 3-course meal for 40 persons in under 4 hours.
......Permanent link for this news item.

Pumphouse Has Reopened!

Opened Monday to Friday from 5pm, Sat from 6. Kitchen open til 11pm. Take away available. 497-5154. New menu now includes Flaming Fromage $14, Pan Fried Blue Tang $11, Roast Duck Breast $22, Baby Back Ribs $18, Rack of Lamb $29, Tuna Steak $18, Pork Loin $17, plus the old favorites: burgers, pizza and quesadilla.
......Permanent link for this news item.

Monday, October 06, 2003
Pitch and Putt Golf Course Opens

A nine hole pitch and putt golf course opened on Saturday September 27 at Sandy Ground. It is a project of the Anguilla Golf Association that was founded in 2001 with residents interested in playing golf who hoped one day to play in Anguilla.

Chairman of the Association, Malcolm Hope-Ross says that the new course will be a good first step for persons wanting to learn the game and will introduce beginners to the fundamentals of golf. It will also provide fun and practice for experienced golfers including residents and visitors.

The course is built on land that was part of the estate of the late Arthur Romney Carty and now belongs to Mr and Mrs Andrews and Mr and Mrs Kinsey. Hope-Ross expressed gratitude for the rental of the land at a nominal rent. The Roadwell Café owned by John and Diana Lloyd is designated as the Club House for the pitch and putt course and will receive green fees, sell balls, rent clubs and will be available for refreshments for players.

The Governor Peter Johnstone who belongs to the Golf Association and was one of the persons keen to have the pitch and putt course, teed off the first ball. Deputy Governor Mark Capes was present for the occasion as well as the elected representative for Road North, including Sandy Ground, Edison Baird and Minister of Finance, Victor Banks.

The course consists of 9 holes ranging in length from 90 yards to 35 yards. The Chairman explained that only wedges and putters will be needed and these are available for rent or to purchase. There are two artificial greens already in place and the Association hopes to secure more funding and be able to put in the other greens. Sponsors to date include Anguilla Rums, Caribbean Commercial Bank, Arawak Energy, Albert Lake, Anglec and Cap Juluca.

Following a demonstration of the use of the net by member Chester Walden, persons were invited to practice at the net or putting on the green. Refreshments were served at the Roadwell Café to the members and invited guests attending the opening.
Story by Brenda Carty for the The Daily Herald
......Permanent link for this news item.

---
---
About Anguilla
Anguilla is a coral island in the North Eastern Caribbean, six miles from St. Martin. Click Here for a map showing Anguilla's relative location. The web pages about Anguilla have been indexed by topic in an Internet Yellow Pages:






---
Searching the News.ai Site
Indirectly, this page links to all known Anguilla web sites, including the many articles in the Bob Green's Anguilla News. To read past issues by date, Click Here. The four year news archive can also be searched by key word:




---
Recommended Vacation Villas
Our villa on Shoal Bay beach: Bellamare.

And ten minutes away by small plane, our Azu villa in St Barth, that is totally secluded and private, but only a short walk to everything in St Jean, and with unbelievable views.
---
© 2003 Bob Green