Faces in Anguilla
This month, we show what there is for grownups to do!

Run on the beach, snorkel, play dominoes, laze in the sun...

Enjoy a drink at the beach, eat a coconut...

Play with pets...

And try to keep up with the children...
Pictures by Nancy Pfister
---
Tribute To Pressure King
A memorial service was held for Pressure King (aka Roger Clarke) at 2 Brothers Funeral Home on Saturday, September 27, 2003. Pressure, whose bright smile and friendly personality made him the Ambassador of Shoal Bay, will be buried on Nevis, where he grew up.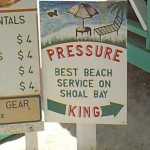 Pressure King always went out of his way to make everyone feel welcome on Anguilla, which is my so many are now griefing over his death. The Anguillian newspaper reported that his "body was found at his residence at Old Ta on Sept 18, where he was shot by an assailant. The police are now carrrying out an investigation into his murder."

Roger will be missed.

Visitor Kathy Francisco, a frequent visitor to Anguilla, suggested this tribute and contributed the 4 pictures below:
Just one month before Pressures tragic death we took some photos at the Pump House. I am sure everyone would appreciate a "tribute" to PK on the web site. In advance, I thought I would share some of the photos we took. Pressure was the first "islander" we met on the island 12 years ago and will be sadly missed by everyone! Kathy
More Tributes
James: I literally have chills right now as I read of Roger's murder. How someone could do something so horrible to such a wonder man is just unfathomable. His kindness and generosity made our trip to Anguilla even more memorable and special than he could ever know. He gave my wife a beautiful conch shell and refused payment for it, after he heard her say that she had searched the beaches, but found nothing unbroken. He let us use his beach chairs and refused to accept payment. We can't describe Anguilla to our friends without telling the story of Pressure King.
He invited us to share his special part of the world and expected nothing in return but to see the wonder in our eyes. He was truly the ambassador of Anguilla and was a fine representative of all the island and its people. The shell he gave us sets in our living room as a constant reminder of the time we spent in the wonderful nation of Anguilla. Now it also serves as a tribute to the wonderful man we had the opportunity and pleasure to know. God Bless Pressure King.
Shari and Dale: We were very saddened by the news of our friend Pressure King. He was such a special person, and so loveable! Our memories of him are so vivid to this day. A few years back, he baked me my birthday cake and had a little party for me at Uncle Ernies, along with a great dinner for Christmas eve. The last time we shared with him was for our sons wedding on Meads Bay on December 4th-2002. He will be so very missed by all that knew him. May god bless him and his family. I'm sure we will all meet once again. Heaven is sure lucky to have him! Love you Pressure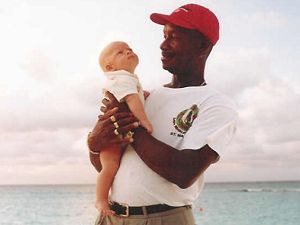 Scott: I just read the news about Pressure King. Attached is a photo I took of Pressure last year at Shoal Bay.
Frank: It is with great sadness that I read about the death of Pressure King. He truly made your island something to dream and yearn for. His smile and warm reception of all people and visitors was what Anguilla is all about. He always would go out of his way to make sure you were having a good vacation and help you through any difficulties you were having on the island. I remember one time when my children were overcharged for braids on the beachby a non-local. He made a phone call and the next day at Uncle Ernie's they had their money returned, No Questions Asked. That was the kind of guy he was. He didn't have to get involved, but he did.
Elsie: I am so deeply saddened by the loss of this loving gentle soul. I have traveled to Anguilla more times than I can count over the last 20 years. Pressure has truly been the ambassador for Anguilla even though he wasn't born on the island. His smile and warmth and friendship was always there to greet the friends and new visitors to the island. There are so many memories flooding back of riotous laughter, dancing at Johnnos, drinking, dinners cooked by him, sitting under the umbrellas talking about our lives and aspirations and dreams. His love of life was boundless. I hear his voice greeting folks saying, "Respect" with his island handshake. I would make him laugh by greeting him as "Roger, the Fantastic, Bombastic, Romantic, Prrrresssure King!". That's how he introduced himself the first time we met! How do you not bond with him after that!
I wear his Pressure King shirt in New York and get stopped all the time by folks who lovingly gush about Pressure King and how he made their vacation such memorable fun by being such a unique character. I know that his name is spoken all over the world by all the friends he made. Reading all the tributes that you have posted pretty much saids it all. He has left so many people with joyful and fun memories because he was such a special man. All of us that had the delight and honor of knowing him are the richer for it. He will always have a special place in my heart and I know that God has a smile on his face because one of his angels has gotten his wings. To you Pressure I say, Love & Respect.
Joyce: I can't tell you how shocked and sad I was to hear about the death of Roger the "Pressure King" - I was in Anguilla a few years ago with a friend who had been there many times before and was introducing me to the Island.. and him. He loved my friend and embraced me with such a warmth and good humor. I have a t-shirt that I wore with his name on it just this summer in NYC and was appproached by someone who said .."I know him"... and we chatted for a bit about how great he and Anguilla is ... I hope the authorites find out who did this .. he was such a great friend to tourists and his friends on the Island .. my thoughts go out to his family and friends... his smile, his personality, and his genuine love for Anguilla will be forever missed .....
Jack & JoAnne: Jack and I married on Anguilla, June 1996 ... how spectacular our wedding was ... all the people I met and became friends with and one of those special people was Pressure King. This man (PK) joined in the dancing and made our day a local event. He came running to me moment after a small rain shower and grabbed my hand and pulled me out on Shoal Bay only to show me a wonderful rainbow over us. He explained to me what good luck it was to have a rainbow on your wedding day. His smile was bright and he was just like a child letting me know how lucky I was. Since then, Anguilla and Pressure King go hand and hand. He has been a true friend, and was due to visit us here in the Mass. We had dinners and drinks with him every year we come, we enjoyed Carnival with him and Bev a year ago and we are at a loss. The news came to us only a short time after Pressure King was found and it truly hurt. This January when I sit on the beach at Bev's place...Jack and I will have many thoughts of him, and there will be a sadness in the day. He was truly our friend and he will smile down on us and be happy we are thinking of him. Our tribute to a dear friend.
Sabrina: He was a good man who looked out for his friends and strangers alike. I was just in Anguilla again for carnival and Pressure checked in with us nightly just to make sure we were ok.. He didn't have to but he did because that is the type of guy he was..... Pressure will be missed by many people, tourists & locals. And out of respect for those who did have fond memories and loved Pressure To all of Pressure's friends and family my heart goes out to you.......
So, Pressure, dear friend I will miss you, I will always keep you in my thoughts and your presence in Anguilla will sorely be missed..... Pressure, have a drink in heaven with Lee for me.......
Steve: I have lived in Anguilla for 2 years and can say with great pride that Pressure King (Roger Clarke) was my good friend and neighbor. But most of all he was a man with a big heart who really loved people. I used to watch in amazement as he'd approach some unsuspecting tourists and ask where they were from. They would tell him and more often than not he had been there and knew all the hot spots of the area and would tell them how he had been there and had a great time with his friends and then he'd go and get his pictures of that trip. Most would look at him with great skepticism waiting for the sales pitch to come. There was no sales pitch, he just loved people and his interest came straight from the heart.
People would leave Shoal Bay with the feeling that there would always be a friend there when they returned. As a friend he was always there for my wife and I when the car needed a jumpstart or we needed a lift. He spent 45 minutes on his hands and knees in the sand with a hammer and screwdriver trying to get the conch out of a shell for my 2 boys. He cooked fantastic lobster dinners for my family and friends and when my marriage was in trouble he used to call me late at night just to make sure I was ok. He was the Ambassador of Shoal Bay, he was a character that touched the lives of so many, but most of all he was my friend! With no Pressure there will be a lot less pleasure in Anguilla. My friend, you were a good man with a big heart and we will always miss you.
Sarah Kenworthy:
I Didn't Know
I didn't know how much I loved you
I didn't know how much I cared
I didn't know how much I'd cry for you
Till you were no longer there

I didn't know my arms could ache
I didn't know my soul could tear
I didn't know my heart could break
Till you were no longer there.
Diane: How lucky for me that I was able to visit with Pressure the week before his tragic death. Oh, how I loved him. When on island he would cook us lobster and his awesome rice and peas. We would talk, drink, dance and laugh. Pressure would proudly show me his many photo albums of friends and places he had been. On September 12th, my last day on the island, we hugged and I told him how much I loved him. I was brought up to judge people by how they treat me, and not to take stock in rumors or gossip. Pressure, in my eyes, was fabulous and it was my good fortune to have been able to share so many wonderful, happy moments with this incredible man. PRESSURE...I LOVE YOU! God Bless.
Christy: A smile that could light up the world, the eyes of a child, always seeing the best in people and generosity unmatched by others. My firend, my brother. I will miss you beyond words. What a dancer, what a chef . A true lover of life and all it has to offer. I can't imagine Shoal Bay with out you. Baaayybeeee. You are loved by so many. I find a small comfort in knowing that you knew we loved you. RESPECT.
Brooks: When we were in Anguilla two months ago, pressure added so much enjoyment to our trip. We met about six couples who all spent time with pressure and he truely made the trip more fun. He even gave all the ladies free tee shirts Prayers to his family.
Danno: We visited Anguilla for the first time last October. Our first evening we were having a drink at Uncle Ernie's waiting for the sunset. I had heard of the "green flash" but had never actually seen it. PK assured us that the conditions were right for the flash & sat with us to ensure we wouldn't miss it. He was so happy to be able to share that moment of excitement with us. Pressure King, may your beach in paradise be even whiter & purer than Shoal Bay!!
Sue and Lenny: We spent one of our most special days ever with Pressure on his boat he took us to prickly pear for the day played Bob Marley tunes drank rum punches a very nice memory. Also spent lots of time at ernies having long talks, we turned 40 together and as I felt a little down about it Pressure said we would be FOREVER YOUNG BABY! We will miss him so much he is the first person we look for when we arrive. Anguilla will never be the same
Jack and Caryn: We will be in Anguilla in February and will miss our morning walks on the beach as pressure sets up his little world of fun for all of us..Sunset will not seem quite right in front of Uncle Ernies without that special guy.
Bonnie: Last month was our 8th visit to Anguilla. PK was the first friend that we made there. One of the great joys of each trip was our first day at Shoal, we'd sneak up and surprise him. We had a lot of good talks over a Heineken. He made the sun shine over Shoal Bay. He will be very, very missed.


Carol: So very sad to hear about Pressure King. He will be truly missed on the Island . He was the ambassador of good will and kindness. I remember him as always being a kind and gentle person that I called my friend. Anguilla will not be the same without him. My condolences to his family and friends.
Marion: As a visitor to Anguilla, it was my great joy to meet him and talk with him. His smile, bright as the Anguillian sun, is a memory that no photo of him could ever capture.His personal kindness to me, is something I will always remember. I would like his family to know that he will be remembered...always...with love and a smile. My thoughts and prayers are with you....
smds@adelphia.net: PRESSURE KING was a very kind hearted man, who did everything in his power to make everyone feel special. Pressure was a part of our family, He has come to our home and stayed with us, We would have dinner together when we were in Anguilla, We would go to his house and he would cook us one of his great dinners, and we would eat, drink, and dance, what a great time we all had.
---
Weather in Anguilla
| Weather Summary | Satellite |
| --- | --- |
| Sunny 83F 28C 65% Humidity, | October 5 |
| Low temp since last news report | 81F 27C |
| High temp since last news report | 86F 30C |
| Low humidity since last news report | 48% |
| Tropical storm web sites | Link Alt |
| Anguilla weather forecasts | Link Alt |
---
Anguilla Daily Diary
Here is a day-by-day compendium of news items, as we gathered them - starting with the most recent.

September 8, 2003 to October 6, 2003
Saturday, October 04, 2003
La Residence Apartments

New place to stay on Sandy Ground - A/C, king size beds, right on the beach.
......Permanent link for this news item.

Cap Juluca Photo Album

Visitor Tony has posted 4 pages of nice pictures from his visit.
......Permanent link for this news item.

Friday, October 03, 2003

Race Against AIDS - Nov 30

Everyone should enter.

Win your fist marathon, or mini-marathon.

If you or any anyone you know is interested in participating in this first-ever race (featuring 5K, 10K or 1/2 marathon races) please contact Jerome Roberts at the OptimistClub at the numbers listed.

More race details can be found here.
......Permanent link for this news item.

Tickets for Tranquility Jazz Festival Available Online

The festival is Nov 14-16, 2003. Sage Entertainment of New Jersey is coordinating the ticketing system and box office operations of the Festival. They will also create and coordinate international travel packages through approved travel partners for prospective festival attendees.

Perons interested in purchasing tickets on-line can do so by visiting the official Tranquillity Jazz website at www.anguillajazz.org (click on Bookings) or directly at www.ticketweb.com

If you are on island, you can buy tickets at the Tourist Board, at Johnno's in Sandy Ground and at Cuisinart Resort & Spa, the Host Hotel for the Festival. Nightly performances are US$40.00 per person, while a season pass retails for US$75.00 per person. There is also a limited number of VIP tickets available for each night which includes VIP seating, one complimentary cocktail, and waitress service throughout the evening for a cost of US$75.00 per night.

The Anguilla Tourist Board's Tranquility Jazz Festival is being presented by the National Bank of Anguilla and BET Jazz – the 24-hour Jazz.
......Permanent link for this news item.

FEDEX Moves.

FEDEX has moved to the ProfGroup building, where the Xerox copy center is (across the street from the National Bank). In addition, in order to make life easier for all of their customers, the new cut off time for packages to be received for same day shipment off island is now 12:30--with those packages reaching their destinations in the USA and Canada the next day, and reaching their destinations in the Caribbean, Europe, South America and Asia the day thereafter. Opening hours are from 8:00 a.m. till 5 p.m. Monday thru Friday and from 9:00 a.m. till 1:00 p.m. Saturday. The phone numbers are 497-3575 and 497-2719
......Permanent link for this news item.

Affordable Anguilla Winter Getaway

"All the comforts of Home" Great breezes, lovely view of the sea and St. Martin Comfortable West End House - 3 bedroom, home office, 2 bathroom, washing machine, weekly maid service and utilities included - available January 30- March 30, 2004 - $1750./US per month.

Contact Wendy at wendking@hotmail.com or King at 264-497-8097.

Give yourself a winter of sunshine and warm!
......Permanent link for this news item.

Puppies!

AARF has 6 lovely female puppies seeking new and loving homes. They are approximately 6 weeks of age. You can visit their web site (click above) and look under pet adoption to see photos of these sweet little pups. If you are interested in pet adoption, please call Amy at 497-4600 Monday through Friday 9:00am to 1:00pm or stop by Morlen's Veterinary Hospital.
......Permanent link for this news item.


ATA and Anguilla's Banks.

Article by Brenda Carty, for The Daily Herald:

Mitchelle Lake, founder of the Anguilla Tennis Academy (ATA) was in Anguilla for the weekend to make presentations to three of the banks. He says he is grateful to the senior management of the National Bank of Anguilla, the Caribbean Commercial Bank and the First National Bank for their interest in the proposed plans for the state-of-the-art tennis facility to be built at Blowing Point.

Note: as the picture to the right shows, the ATA is raising funds by selling "bricks at $100 each. The bricks will be used to create the entryway into the tennis academy.

Lake reports that the responses were great and he is looking forward to support from the banks as well as other businesses and individuals. He notes that the goal is to get Anguillians involved in the project as it is to be a symbol of national pride assisted by international tennis enthusiasts.

The facility will have six lighted tennis courts, a stadium court with seating for more than one thousand persons and a main building with a pro shop, bathroom facilities, lounge, terraces, conference room and offices. To date pledges have reached in excess of US$100,000 contingent on the ground breaking that is scheduled for December 2003.

Several donations in kind have been made including the land from the Government of Anguilla, a donation of doors, windows, plumbing fixtures and other hardware from All Island Exports based in Miami, and the architectural drawings by Myron Goldfinger. Legal assistance has been from Ephraim Helton and Associates of Danville, Kentucky and from Caribbean Juris Chambers in Anguilla. Promotional assistance and discount fares from American Airlines/American Eagle, blocks from ABC Supplies, fencing from Anguilla Island Development and land clearing by Walton Fleming, are all important aspects of the donations.

Lake says that the ATA will help build valuable life skills for its younger members including work ethics, competitiveness and teamwork. There will be cultural benefits through the out-reach programme when members will be able to share the rich culture of our island and people with international participants and coaches. There will also be economic benefits too with year round scheduled tournaments attracting visitors to the island and providing a boost to the industry by helping to extend the season. He notes that the ATA will provide opportunities for young children and adults through the sport of tennis, that with the world class golf course and the world class tennis facility Anguilla will become the number one sports leisure destination in the Caribbean and all local businesses will benefit financially. He also stressed that Anguilla must be the first in the Caribbean to build this tennis facility as it was first proposed in Anguilla.

Also attending the presentations with Lake and answering questions posed were Bill Riddle, the ATA Tournament Director/Event Director and Marketing official who is the Head Coach at Cumberland University in Nashville, Tennessee, and Brent Davis, treasurer of the ATA.
......Permanent link for this news item.

Thursday, October 02, 2003
Anguilla's National Culinary Team left today to participate in the regional Taste of the Caribbean culinary and bartender competition to be held in Ocho Rios, Jamaica from October 2-5, 2003. Taste of the Caribbean is a four day food and beverage festival and the single largest annual culinary platform in the region. Anguilla's National Culinary Team is this year comprised of five young talented individuals selected for their strong culinary skills and ability to work as a member of a coordinated team. They include, Vaughn Hughes, Chef; Shaun Hodge, Chef; Sherman Niles, Chef; Joyah Gumbs, Pastry Chef ; and Alex Ballin, Bartender.
......Permanent link for this news item.

Hibernia Re-opens!

Hibernia will be re-opening on Saturday, October 4th, with lots of new items on the menu. For the moment, they will be operating on their 'low season' schedule: Dinner Wed to Sundays Inclusive, Lunch Wed and Fri only. On October 14-17, Hibernia will be closed, but will re-open again on the 18th.
......Permanent link for this news item.

Tuesday, September 30, 2003
Artist Lynne Bernbaum in French Art Show

Lynne, who makes her home in Anguilla and has a gallery in the Old Manse building, had a showing of her recent work in France this September, for the second year in a row.

Lynne is the first person in this photo, with Michelle Binic standing behind her, then Michel from Shoal Bay Scuba.
......Permanent link for this news item.

Monday, September 29, 2003
Shoal Bay Villas: 2003 Opening Special

Shoal Bay Villas is offering a 1 week special available from October 25th through October 31st, 2003. All room rates will be discounted 50%. Call or email now to take advantage of this great promotion. Email: sbvillas@anguillanet.com Tel: 264-497-2051 Fax: 264-497-3631
......Permanent link for this news item.

Tuesday, September 16, 2003
AHTA Auction #7

The Hotel Association has another vacation auction on their web site: 7 nights at the deluxe penthouse suite of Paradise Cove Resort. Bidding is by email and started at $300.
......Permanent link for this news item.

Friday, September 12, 2003
Treasury Sports Club Raffle

Grand prize: Suzuki Grand Vitaa, drawing 29 Nov 2003. Tickets at the Treasury in The Valley.
......Permanent link for this news item.

Thursday, September 11, 2003
Travel Insurance

If you are spending several thousand dollars to holiday in Anguilla, you should consider travel insurance. There is a web site called InsureMyTrip.com that shows quotes from different insurance companies, comparing different policies and letting you pick the one you want. Here is a consumer experience from someone who found their insurance through this site.

Your policy should probably cover the following: Trip cancellation / interruption (hurricanes!), Medical expense coverage, Medical transportation, Baggage insurance, Baggage delay, Travel delay, Missed connection, and perhaps rental car insurance (don't bother if you personal auto insurance covers it).
......Permanent link for this news item.

Tuesday, September 09, 2003
Anguilla's National Culinary Team

The team will be hosting a Practice Dinner Sunday, September 14th, 2003 at 7:30pm. Location: Irad's Seaside Grill, Sandy Ground. Tickets: US$40.00 per person. (Bad weather date is Monday. September 15th.)

Our National Culinary team is gearing up to compete in this year's Taste of the Caribbean, the region's premiere Culinary and Bartender Competition, to be held from October 2-5, 2003 in Ocho Rios, Jamaica. In preparation for the competition, the team will be preparing the 3 course menu that they will be entering in the competition.

Practice Dinner Menu:

Panseared Snapper Napoleon with wilted greens and banana and soursop rum sauce

Stuffed Chicken Breast with Crayfish with stewed curry chicken served in a plantain basket and mixed baby green salad

Anguillian sweet potato coconut conky dumpling served in a banana leaf with guava ice cream and Pyrat Rum Anglaise

Spaces are limited. Reserve your tickets early to avoid disappointment. Tickets available from the AHTA (497-2944), Anguilla Tourist Board (497-2759), Irad's Seaside Grill (497-5827), or from members of the National Culinary Team.
......Permanent link for this news item.

---
---
About Anguilla
Anguilla is a coral island in the North Eastern Caribbean, six miles from St. Martin. Click Here for a map showing Anguilla's relative location. The web pages about Anguilla have been indexed by topic in an Internet Yellow Pages:






---
Searching the News.ai Site
Indirectly, this page links to all known Anguilla web sites, including the many articles in the Bob Green's Anguilla News. To read past issues by date, Click Here. The four year news archive can also be searched by key word:




---
Recommended Vacation Villas
Our villa on Shoal Bay beach: Bellamare.

And ten minutes away by small plane, our Azu villa in St Barth, that is totally secluded and private, but only a short walk to everything in St Jean, and with unbelievable views.
---
© 2003 Bob Green