Flower Show
Anguilla's Fourth Flower and Garden Show
The show was held Feb 15 and 16, 2003 at Wallblake House and Grounds. Sat 10:30 to 5, Sun 12 noon to 5. Sponsored by the Anguilla Beatification Club. Categories of exhibits: Fresh flower arrangements, indigenous flowers, arrangements of folliage without flowers, arrangements using a single fresh flower, dried arrangements, miniature arrangements of fresh flowers, creative arrangements. Also grounds displays (size 20' x 12'). Read about a previous show.

---
Sandy Hill Club Opening Up!
Big news at this exciting condo project on the edge of the Sandy Hill Bay beach. They have completed the first building, with views of the ocean, St. Martin and St. Barths. Two of the 8 units have been sold and the project is ready for visitors. The swimming pool is under construction, with three more buildings coming soon.

The first building has one, two and three bedroom oceanfront view units. Each villa will have two floors and will be divided in four (or eight) apartments. Units range from 720 to 1250 sq. feet and can comfortably accommodate even large families.

The villas come with Italian fitted kitchens and beautiful Italian tiles, plus dual power (110 and 220) so that you can use European and American appliances. Upon special request two or more units can be joined to create even larger suites. The affordable prices range from $140,000 US to $260,000 US. If you wish, you can have your apartment rented when you are not on the island; Sandy Hill Club staff will take care of it. Thus for an affordable price you can have a holiday place at the tropics as well as a profitable investment for the future.

People who are interested are invited to arrange a tour by calling 264-497-4043 or emailing to sandyhillclub@anguillanet.com For more information, visit the web site at www.sandyhillclub.com
Directions: Starting from the airport parking lot, take the only exit and turn left, continue straight past Island Car Rentals and National Bank of Anguillla. Turn right at the traffic light by Barclays Bank toward the Farrington and East End Village. You will pass Proctor's Grocery store, then Tropical Flower Wholesale, then turn right on a dirt road just before the roundabout. Follow this road straight for a few hundred yards. Take the first right, just before Sandy Hill Bay beach, follow that dirt road a hundred yards, then take the first left and drive straight toward the water and the Sandy Hill Club.


Photos by Bob Green, Luciano Adolfo and Nancy Pfister.
---
Weather in Anguilla
| Weather Summary | Satellite |
| --- | --- |
| Sunny 82F 27C 55% Humidity, | March 1 |
| Low temp since last news report | 75F 23C |
| High temp since last news report | 82F 27C |
| Low humidity since last news report | 51% |
| Tropical storm web sites | Link Alt |
| Anguilla weather forecasts | Link Alt |
---
Hydroponic Farming at CuisinArt
When you enjoy the fresh vegetables at CuisinArt Resort, remember that they have world-class hydroponic gardens. In-house hydroponic farming produces the fresh produce for the restaurants at the resort. Howard Resh PhD (pictured right), author of Hydroponic Food Production, has been the Hydroponic Farm Manager since the project began.

Nothing is left to chance at this soilless growing operation. The greenhouses are hurricane resistant, the water comes from a desalinization plant, and the excess growth and greenery is composted when discarded. There are even decontamination rooms as you enter to keep unwanted bacteria and insects out of the greenhouses.

Some of their crops include: beefsteak tomatoes, cherry tomatoes, picolino tomatoes, yellow tomatoes, red, orange and yellow peppers, bok choy, a variety of lettuces, basil, arugula, Italian and moss-curled parsley, chervil, watercress, chives, mint, oregano, dill, thyme, sweet marjoram, string beans and broccoli raab -- even edible nasturiums and violas (as you can see above).

Dr. Resh has been with the farm since it's inception and has been training local staff to take over the operation. A production worker trainee, Cleveson Daniel, is pictured to the right.
The first picture below is of "cukes in buckets", a system for growing cucumbers. The second shows a staff member working on the tomato vines, which grow so high that he must work on stilts!
The third shows germination flats for the new lettuce, which is then transplanted to the growing ponds shown above.
The fourth picture is of cucumbers growing up a vine, then a closeup.
The final picture features bok choy growing in cascading styrofoam boxes.


Tours of the operation can easily be arranged by calling the resort at 264.498.2000. And half way through the hour-long tour, when you are just starting to realize how hot it is in the greenhouses, they offer you cool bottles of water!
Directions: on the grounds of CuisinArt Resort. Starting from the airport parking lot, take the only exit and turn left, then left again and past the airport entrance. Continue straight through the roundabout and west down the main island road. Continue straight (leftish) at the Sandy Ground roundabout. After several miles you will see the left turn for Cuisinart Resort (1/2 mile past turn off for Anguilla Great House). Enter the grounds and inquire of the concierge in the lobby.
Story and pictures by Nancy Pfister
---
Anguilla Chamber of Commerce On The Move
The Anguilla Chamber of Commerce & Industry Ltd. (ACOCI) has embarked on a drive to energize the organization and expand its membership. Experienced and enthusiastic businessman Calvin Bartlett is spearheading the effort as the recently appointed Executive Director.

ACOCI aims to become an umbrella business communications center, collecting and sharing information on investment opportunities and business activities and trends that affect the island.

One of the more significant projects that the Chamber is currently working on getting off the ground is a Fisheries Project in cooperation with North Atlantic Inc, a company based in Portland, Maine which is involved in similar fish projects in various parts of South America.


Chamber of Commerce Meeting Attracts Large Audience

Executive Director Calvin Bartlett attraced a crowd of over a 100 local business and community leaders to Cocoloba Resort to hear a vision for how a revitalized Chamber can help boostrap Anguilla's economy. From The Anguillian newspaper.


This project would involve local fishermen providing the fish caught in Anguilla waters, some of which would be sold fresh on island, the rest of which would be filleted, and iced using state-of-the-art technology designed to retain the freshness. The fish would be sold on the island with the excess exported mainly to the US market with an Anguilla label… "From the tranquil waters of Anguilla." This project aims to diversify the economy and generate spin-offs for the fishing industry. Mr. Bartlett assures that the necessary continual environmental monitoring will be activated to ensure the sustainability of the fish population and to preserve the related eco-system components.

ACOCI is striving to form networks and working relationships with other Chambers of Commerce throughout the world. If you're a member of a Chamber of Commerce or have experiences or information you'd like to share, do drop in at the ACOCI offices and have a chat with Calvin on your next visit to Anguilla.

Business hours: Monday - Friday 9am - 3pm. Tel. 1-264-497-2839.
acoci@anguillanet.com Website: www.anguillachamber.com


Located: Opposite the Government Treasury Building, The Secretariat, The Valley.



Chamber Update February 28, 2003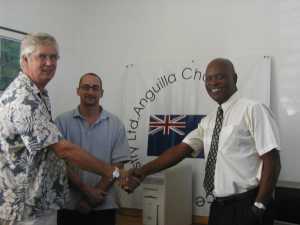 Computer for the Chamber of Commerce
The Anguilla Chamber of Commerce and Industry (ACOCI) was the appreciative recipient of a Dell Pentium II Computer complete with DVD and CD Writer. Main Ltd., an Anguillian software company owned and managed by Bob Green, donated the system to support the Chamber's drive to create increased business opportunities on Anguilla and to offer educational resources for entrepreneurs on the island.
Bob has also volunteered to regularly update and maintain the Chamber's web page and assist with their awareness and educational drive through exposure on www.news.ai. ACOCI's Executive Officer Calvin Bartlett expressed his gratitude upon accepting the donation, which he indicates will go a long way in providing support for the Chamber's planned educational programs and other initiatives.
Story and pictures by Janine Edwards
---
Anguilla Daily Diary
Here is a day-by-day compendium of news items, as we gathered them - starting with the most recent.

February 3, 2003 to March 2, 2003
Saturday, March 01, 2003
Animal Rescue Newsletter

The Anguilla Animal Rescue Foundation February 2003 Newsletter is available for viewing by clicking the link above, or by going to their home page http://www.aarf.ai/ and click on newsletter and February 2003. This month includes updates on AARFs discussions with Puppy Angels, a number of animals going to US, and our currently available adoptable pets.
......Permanent link for this news item.




Ashley Brooks Road Relay.

Come see the athletes from the 7 primary schools and the high school compete on March 9, 2pm. Location: Ashley's supermarket in The Valley.
......Permanent link for this news item.

Sunset Homes Update.

Ian "Sugar George" Edwards and his wife Janine continue posting progress reports on the construction of their new villa: Stage 12 and Stage 13.
......Permanent link for this news item.

Thursday, February 27, 2003
Villa Lyrice

Here is a web page for a brand new villa in Sandy Hill (actually it is two villas, because there is a complete unit upstairs and another downstairs).
......Permanent link for this news item.

More Moonsplash Details.

Thursday March 13. There will be a cocktail party for Moonsplash at Altamer Restaurant. Tickets: $30. The Artists will include: BLACK UHURU, Mussington Brothers, Sheriff Uncle Bob, Bankie Banx, Derrick Morgan, Cat Coore of Third World, Yasus Afari.

Saturday March 15. Black Uhuru 8:00 PM $25.00 US.

Sunday March 16. Free Grand Beach Party. The Mussingtons and other local groups.
......Permanent link for this news item.

Wednesday, February 26, 2003
New Store: Valley Optical

Carl Provenzal recently opened Valley Optic, which carries optical frames, sunglasses frames, prescriptive glasses, contact lenses, progressive lenses, bifocal lenses, photochromics lenses and does repairs. He has almost 9 years experience in Optician labs, offices, stores. He previously worked in Sint Marteen, but finally, last year, his wife decided to "come back home" (she is Anguillian) and this project took a place in their life. Carl writes:

In January 2003 my wife and I opened Valley Optic. I'm trying to give the best to my clients, in quality and prices. For the moment I don't give eye examinations (like the French system); the ophtalmologist does that part. You have a choice of different spectacles with differents prices from 45$ to $410. My prices are an exact copy of Sint Maarten, and I also doing free repairs and adjustments.

Carl (click the image below to see a larger photo of Carl) carries a large selection of sunglasses, including name brands: Vuarnet, Revo, Persol, Maui Jim, Quicksilver, Silhouette, Bcbg, Polo, Ralph Lauren, Gucci, Dior, Versace, Rayban, E Armani, A Armani, Prada, Chanel, Gold & Wood, and coming soon: Oakley, Calvin Klein, and Cartier

Located in the Social Security Building between Cable & Wireless and the Post Office.

Tel. 264-497-1974. Email: valleyopticbwi@anguillanet.com.
Aquacise-Classes

Susi from Body & Soul Beach and Fitness Club starts back her Aquacise-Classes. This time they will be held in the beautiful pool of Paradise Cove Hotel. Starting in March '03: Wednesdays & Fridays at 9.00 a.m.. Costs: 65 US$ per month or US$ 10 per single class. Also get information about her personal combined Pilates & Aquacise-classes at Rendevous Bay. Cell: 235 8399 or 497 8363
......Permanent link for this news item.

COCO-MO's LOUNGE Presents: A Very Special Evening with top Jazz Vocalist "Michele Marie" supported by Anguilla's own Jazz Artists and "Jaine & Ash".

Michele-Marie, is visiting Anguilla from a tour in Japan to make her wedding plans at the Cocoloba Beach Resort for this November. Michele graciously agreed to sing for us this coming Sunday evening, March 2. Local Jazz musicians, including 'Jaine and Ash' will back her to make the evening very special. We wish to share her wonderful voice with our friends in Anguilla and have prepared a special menu for the evening. You may wish to listen to some of her music and that powerful voice on her website: www.michele-marie.com

Before she could even walk, Michele Marie was singing. Her mother watched while Michele, at the age of 2, grabbed a funnel as a microphone and uttered her first performance on the kitchen floor of their suburban home in Cottage Grove, Minnesota. Today, Michele Marie is bringing the rare allure of the classic cabaret to patrons young and old as she travels the country to perform. While most of her fans admit being drawn to her Minnesota-born charm, it's her powerful voice that has undeniably made such an enormous impact on the performance circuit. Still humble and motivated only by a pure love of music, there is much in store for this remarkable talent and her ever-growing base of fans.

Place: Coco-Mo's Lounge at the Cocoloba Beach Resort Tel: 264.497.8800
Time: Sunday, March 2, 2003 8:00 pm
Dinner: No cover charge. Special Lounge Dinner Menu.
Reservations: Limited Seating. Please call early to reserve your table or email to: info@cocolobaresort.com

......Permanent link for this news item.

Sea Grape Charters

Maxine Herbert-Webster announces: The Caribbean and Atlantic waters around Anguilla has some of the best scenic views and fishing grounds in the World. Our 39ft luxury cruiser comes with all the amenities of a hotel, can help you explore these pleasures. Our airconditioned cruiser is configured for long distant cruising in total comfort and safety. You can overnight in St. Barths in our fully furnished bedroom.

There is a huge Salon for dining and entertaining. Relax in total comfort in this meticulously maintained Salon. Enjoy our JVC CD player with 19"colour TV and VCR. Extensive navigational and electric equipment affords the ultimate in comfort and safety for any cruising your heart desires. Robertson AP200 autopilot, autohelm depth sounder, autohelm speed, distant log, IcomM100, VHF radio and Furano GPS.

Our Friendly, Professional Crew can arrange immaculate moonlight cruises, hassle free airport pickups or visits to the neighbouring islands. Go to St. Maarten to shop, or visit the Casinos. Lavish yourself to lunch on one of the neighbouring Cays. VIP request can cater to your desire. Short and long term charters available. We can offer you indepth island exploration at a leisurely pace. There is a minumum requirement of four (4) hours for Day Charters.

Island Air Charters can fly you in comfort to any neighbouring island. This twin engine 10 seater, Cessna 402C, is ideal for those travellers who hate to wait in long lines, or hours on connecting flights. Island Air Charters offers an Executive Arrival and Departure Service upon request, whereby our representatives handles all airport transactions. Captain Tony Webster awaits you.

SeaGrape Charters & Island Air Charters: P.O. Box 100, The Valley, Anguilla, BWI. Tel: 264-497-4064. Fax: 264-497-4056. Cell: 264-235-7364/7100. www.seagrapecharters.com Email:info@seagrapecharters.com
......Permanent link for this news item.

Splash Spring Special Enjoy the tranquility and comfort of your very own Caribbean hideaway at Splash Villa. Private pool. Jacuzzi-for-two in master suite. Tranquil setting. Take advantage of this great special offer! Complimentary jeep rental for your entire stay....perfect for exploring the island in comfort! Spacious air-conditioned Grand Vitara Suzuki jeep. 4 door. 4 wheel drive. Valid: March 15 - April 5, 2003. edwards@anguillanet.com
......Permanent link for this news item.

Canadian trained and certified Margaret Ouwehand offers deep muscle therapy, reflexology, therapeutic touch healing, and manual lymphatic drainage massage.

Telephone for an appointment: 264-497-5798, or email to margaret1863@hotmail.com
......Permanent link for this news item.

Tuesday, February 25, 2003
US Airways St Maarten Specials: $297-$317

US Airways has eSavers specials to St Maarten at an incredible price. Depart: Sunday-Friday March 9-March 21. Return: Monday-Friday March 17-March 28. Tickets must be purchased by February 26, 2003. (Link via Anguilla Forum.)
......Permanent link for this news item.

Monday, February 24, 2003
Peg Gregory Show

Devonish Gallery announces a showing of paintings by Peg Gregory, "The Joy of Anguilla", opening Sunday March 2, 5:30-7:30pm. Exhibition continues through Saturday March 22. 264.497.2949
......Permanent link for this news item.

Consultants Told to Start on Airport

Read latest news on airport expansion in The Anguillian.
......Permanent link for this news item.

Festival of the Sea: May 16-31

Read all about it in this article from The Anguillian.
......Permanent link for this news item.

Bankie Banx Announces Moonsplash 2003 Lineup

Anguilla's favourite musical son, Bankie Banx, will host his 13th Annual Moonsplash Music Festival from March 14-16 at The Dune Preserve on Rendezvous Bay.

This year's festival promises to be another spectacular event, with some of the brightest stars in reggae scheduled to perform on the Moonsplash Main Stage. Special Guest Artists include Grammy Award-winning Black Uhuru, Derrick Morgan, Yasus Afari, Bankie Banx with Lloyd Parks and We The People (Friday), Bankie with Cat Coore of Third World (Saturday), Sheriff Uncle Bob and the Goodtimers, The Mussington Brothers, and Jah Movers Band with The Dune Experience. Sunday, March 16, is Bankie's Grand Beach Party and Folk, Food and Arts/Crafts Fair, a great day of fun in the sun at The Dune Preserve.

This year's Beach Party offers an extra special treat: the Dash to Splash Boat Race! Sponsored by Caribbean Liquors and Tobacco, Anguilla's top A-Class competitors will face off in a lively sailing competition on Rendezvous Bay. For more information on Moonsplash 2003, check out Bankie's website at http://www.dunepreserve.com
......Permanent link for this news item.

Here is a new web site for the Hughes Medical Centre in the Lower South Hill area of Anguilla.

The 18,000 square foot centre offers a state of the art surgical and medical facility. The multi-specialty complex concentrates on plastic and reconstructive surgery, ambulatory general surgery, gynecological surgery (including laparscopic surgery), family practice and radiologic services, (x-rays, mammography, ultrasounds). Other specialists (e.g. cardiology, neurosurgery, gastro-enterology, pediatrics, rheumatology) are encouraged to visit on a periodic basis to provide service to the local patients.

With their modern testing equipment and range of specialists, this is a great addition to Anguilla.
......Permanent link for this news item.

Irad's Seaside Grill

Sue and Jim Dutmers write:

We wanted your readers to be aware of the great job that Irad of Irad's Seaside Grill on Sandy Ground is doing. It's located at the old Riviera - a choice location to take in all of the action on the beach, including the goats prancing up the beach in search of their lunch! The menu is uncomplicated, and the ingredients and flavors are fresh and very tasty. You can't beat the reasonable prices! The surroundings are beautifully planted, and the tables are creatively hand-painted by Lydia (also of Sandy Ground). Irad, who has always been most personable throughout his years at Cap Juluca, is on sight making sure that his guests are well taken care of. He opened after the season last fall, so this is his first actual season.

Enjoy Irad's for lunch and dinner, and bring the family, as the kids can play in the sand while the adults enjoy their cocktails. We've been for both and plan to return with our guests. Having traveled to Anguilla for the past 17 years, it's always fun to see the possibility of new and exciting restaurants opening. We wish Irad the very best of luck!

More on Irad's Seaside Grill

Veteran restauranteur Irad Gumbs recently opened Irad's Seaside Grill down on the water's edge at Sandy Ground. After many years of working in various top restaurants and hotels on the island and participating in training in the Caribbean and Europe, Irad created his own little gourmet haven. This tropical ocean front spot specialises in Caribbean cuisine hot off the grill. Irad is trying to keep his menu simple and refreshing, featuring lobster, crayfish, chicken, pork and more. Irad's Seaside Grill opens from Monday - Saturday from 12 noon to 3pm for lunch and from 7pm - 10pm for dinner. Closed Sundays. Tel. 497-5827. Irad also does charter boat pickups and tours. Email: irad@anguillanet.com

Lunch Menu Irad's Seaside Grill (Prices in USD. 15% Service Charge to be added)

Soups
Vickssoise (Served cold) $4
Conch Soup $5
Fish Soup $5
Pumpkin Soup $4

Salads
Chef Salad (Served with Roast Beef and chicken) $12
Nicoise Salad )Served with Tuna or Chicken) $12
Caesar Salad (Served with Tuna, Shrimp or Chicken) $10
Mixed Garden Salad $8

Sandwiches
Chicken Sandwich $8
Club sandwich $10
Lobster sandwich $12
Hot Dogs $6
Hamburgers $8
Fish Burgers $8

Wrap Sandwiches
Roti (Chicken, Shrimp or Roast Beef) $8
Club Wrap
(Chicken, Shrimp, Ground Beef or Roast Beef) $10
Lobster Wrap $12

Pizzas
Toppings: Pepperoni, Ground Beef, Seafood, Vegetables, Mushroom, Olives, Ham, Peppers, Pineapple $8

Entrées (Served with Rice & Peas or Fries & Cole Slaw)
Fish & Chips $10
Snapper Creole $12
Crayfish $15
Lobster $15 per pound
Grilled Chicken Breast $10
BBQ Ribs $8
Thursday, February 20, 2003
50 Year High School Reunion

In 1953, the doors of the Valley Secondary School opened to less than 50 students from all around Anguilla. This event marked a milestone in Anguillian history which is indelibly etched into the minds and hearts of every modern Anguillian. During July 27th - August 2nd 2003 there will be a series of activities celebrating 50 years of secondary education in Anguilla. All past and present students and staff of our high school, whether far or near, are invited to join in the celebrations and be a part of history - Keeping the flame alive!
......Permanent link for this news item.

February 2003 Trip Report: Cinnamon Reef

This report from the Anguilla Travel Forum describes a recent trip to Anguilla.
......Permanent link for this news item.

Wednesday, February 19, 2003
Rotisserie Chicken!

The Island Supermarket in Island Harbour is now offering whole chickens roasted on a rotisserie. Extremely tasty and economical.
......Permanent link for this news item.

Tuesday, February 18, 2003
New book published: The Reptiles and Amphibians of Anguilla

The Anguilla National Trust has just published a new book about Anguilla's reptiles and amphibians. This is the second guide in a series that started in 1997, with a book on the country' wetlands.

Karim Hodge writes: "Both serve to foster an appreciation of Anguilla's fragile natural resources and enhance awareness of conservation issues that continue to affect the development of the island. In addition, specific information is provided about a very important component of the Anguillian fauna with hopes that this guide encourages readers to enjoy their encounters with reptiles and amphibians."

"An overview of the Anguillian Archipelago, reptiles and amphibians generally, and relevant conservation issues preceeds accounts of all species known to occur on any of Anguilla's islands. The species accounst provide illustrations of each species, information about their distributions and origins, hot to identify them, notes on their biology and comments on their conservation status. At the end of the book, a selected bibliography of references pertinent to Anguilla's reptiles and amphibians is provided for those who might seek more information."
......Permanent link for this news item.

80 Computers, 30 Printers for Schools

The Mount Sinai School District of New York has donated equipment to the schools in Anguilla, and is providing training and setup assistance.
......Permanent link for this news item.

Ashley's Ice Cream Shoppe

Ashley's Supermarket in The Valley has added an ice cream parlor.
......Permanent link for this news item.

Two bedrooms, with a swimming pool. This beautifully decorated home is located on the Searocks. They are running a special now at $350/night.

Comes complete with Neapolitan wood pizza oven and cold smoker for fish!

This villa is also for sale (and available for long-term rental until sold).

Price $495,000. Approximately 2500 square feet of living space. House faces north with sea view to the north, east and west. First level (ground) large bedroom and bath, and two room artist studio, private entrance. Second level. Two bedrooms, two bathes large living area, and kitchen. Balcony 45 feet long with pool attached. Pool is 15 feet x 25 feet. 16,000 gallons.

½ acre lot fully fenced. Garden is mature. There is a generator house with a 12K generator Two cisterns. 16,000 gallons each House is turn key.

If you are interested in purchase or long-term rental, email edwards@anguillanet.com
......Permanent link for this news item.

Monday, February 17, 2003
Villas Caribe

Here is an web site for a Caribbean villa rental agency, with information and video tours of several Anguilla villas, mostly highend. Click Villa Rentals, then search on Anguilla.
......Permanent link for this news item.

Saturday, February 15, 2003
The 2003 APPLE Summer Youth Theatre Festival

With Five weeks of rehearsals, Two mainstage productions, with a total of Eight shows, Four talent showcase events, and Five days of workshops in acting, music, dance, writing and management. ...a celebration for the entire community!

If you are between the ages of 12 and 20 and would like to learn more about acting, singing, dancing, costume, set or props design, don't miss this fantastic chance to get some experience and strut your stuff. No Experience Necessary! Contact Eleanor Stacey for more information at eleanorstacey@hotmail.com

July: Into The Woods - (July 7-26)
Did Jack sell his cow to a Baker for beans from the garden of a witch who stole the baker's sister, Rapunzel, as a child? Is Rapunzel in love with a prince who has a thing for sleeping beauty? Does Cinderella's Prince Charming have a fear of dwarves, but a love for Snow White? All this and much, much more in this rollicking jaunt through all your favorite fairy tales! This 2002 Tony-winning musical by Stephen Sondheim recently closed on Broadway. It is a challenging and colourful show, with an assortment of well-known fairy tale characters, and gives you a great opportunity to grow as singers, dancers, and actors, as well as set, prop, and costume designers. In Anguilla, the show will take on a distinctly local feel as we inject elements that reflect the island. AUDITIONS July 7th

August: Voices of Anguilla - (August 11-20)
"Chirrun dese days ain't nuttin but trouble!" complains one old Anguillian woman in this wonderful new play written by participants of the 2002 Playbuilding: Process and Performance program. Well, we're out to prove her wrong! Playbuilding II will build on the work created last summer, in which students experienced the theatrical process of creating a production for the stage from beginning to end. Audience members at the two August 2002 performances of Voices of Anguilla commented that the piece was both excellent and important, and should be restaged so as to allow more people in the community to see it. Students have also indicated that they would like the chance to continue working on this show, and to add to and improve the piece. In response to both of these requests, Playbuilding II invites students to revisit the script with a fresh perspective, make edits, and polish their work into a professional-quality production. AUDITIONS August 5th

And in other news…

Workshops - (July 28 - August 1)
Wanna learn more? Over the course of five days, sessions will be held in the areas of music and vocal health, dance and stage choreography, acting techniques, playwriting, and education and management issues. Throughout the week, participants will develop work in their respective areas of interest. While the workshops will be geared toward young people, other members of the community are welcome to attend and participate. At the end of the week, there will be a culminating showcase of their work open to the public.

Talent Showcases - (Dates to be announced…)
It is important for performers to have opportunities to practice their art before an audience in order to test their work and develop their performance skills. Throughout the seven-week festival period, multiple opportunities will be arranged for local youth to show their talent and work in smaller, more intimate settings, previewing some of the pieces they will be rehearsing for the mainstage shows, and trying out original work. After each showcase, participants will review each other's performances, giving feedback on how pieces can be improved.
......Permanent link for this news item.

Friday, February 14, 2003
Reminder: St. Gerard's 20th Annual Garden Party

St. Gerard's Catholic Church will host its 20th Annual Garden Party on Saturday evening, March 1, 2003. The organizers announced that the theme of this year's Garden Party is "Community Building" through participation and cooperation. As Anguilla continues to grow the strengthening of its community spirit is seen as an important focus for all people in order to maintain and strengthen Anguilla's greatest treasure, its people. Over the years, the Annual Garden Party has continuously been host to the Island's various communities and faiths, as well as the numerous tourists visiting Anguilla, with well over 400 in attendance last year. "Bringing together the Island Community to enjoy this wonderful social event continues as one of our major objectives," stated one of the Party's organizers.

St. Gerard's Garden Party has become a standard celebration for all of Anguilla to enjoy and participate in, with a traditional West Caribbean dinner, entertainment and dancing. As in the past few years, Anguilla's renowned entertainer, Spoka, will provide entertainment for the Garden Party. All of Anguilla is invited to enjoy a wonderful evening under the stars. The celebration begins at 6:30 pm on the grounds of the Wallblake House in the Valley.

The dinner tickets are US$20.00 (children 12 and under are $10 at the door) and can be obtained at All Island Cable Television, ANGLEC, Anguilla Drug Store, the Old Cotton Gin Ice Cream Parlour, and through members of the Church.
......Permanent link for this news item.

Wednesday, February 12, 2003
Expatriate Rental Right Developments

This article by Scott Hauser details the current status regarding foreign villa owners and renting Anguilla villas to holiday visitors. Originally published in Anguilla Life magazine.
......Permanent link for this news item.

Friday, February 07, 2003
Altamer Restaurant Valentines Day special

A romantic four course prix fixe dinner special: in addition to our regular extensive menu (also each special item can be ordered à la carte). Price Per Person $65.00 (excluding wine), Subject to 15% service charge, Executive Chef: Maurice Leduc.

Course 1: STARTERS: Crisp Crab Springroll, With shredded vegetables, crabmeat and touch of ginger, Served with a sesame dipping sauce. (à la carte price US$15)

Course 2: Champagne Sorbet (à la carte price US$12).

Course 3: ENTREE: Seafood Ravioli, Open Ravioli filled with lobster and crayfish, laced with a delicate lobster and tomato based sauce with caramelized root vegetables (à la carte price US$38).

Course 4: DESSERT: White chocolate and coconut truffle served with Pistachio tuille and chocolate Malibu sauce (à la carte price US$16).
......Permanent link for this news item.

Wednesday, February 05, 2003
Merrywing Bay

Bob Powers of Barrington, Rhode Island writes:

My wife and I love Anguilla and enjoy your Anguilla News immensely - it is a great way to stay in touch when we are not there (which unfortunately is about 50 weeks a year).

I have noted that visitors often send you pictures and I thought you (and your readers) might enjoy these. Both are of Merrywing Bay and were taken at the Sonesta before it closed. I use them as screensavers so I get a daily reminder of just how beautiful Anguilla is.

We're coming back in April and we are counting down the days.
Whales

Steve Donahue writes:

While sailing back from St. Martin to Maundays Bay in Anguilla today around 1:00 PM, I sighted the first whales of the season a couple of miles off Blowing Point in the Anguilla Channel. The first was an adult who was broaching (with unbelievably large splashes), with about 2/3's of it's body out of the water. After about 8 or 9 times, it then started slapping the water with it's fluke. It was then joined by a juvenile, who also started slapping the water. The adult disappeared, and the water spout from the juvenile was last seen heading east towards Flat Island.

The sighting lasted about 10 - 12 minutes, and was amazing. I believe this is early for whale sightings (usually April?), but someone else told me they sighted one early this morning at Windward Point - maybe the same one. Maybe it all has something to do with El Nino.
......Permanent link for this news item.

---
---
About Anguilla
Anguilla is a coral island in the North Eastern Caribbean, six miles from St. Martin. Click Here for a map showing Anguilla's relative location. The web pages about Anguilla have been indexed by topic in an Internet Yellow Pages:






---
Searching the News.ai Site
Indirectly, this page links to all known Anguilla web sites, including the many articles in the Bob Green's Anguilla News. To read past issues by date, Click Here. The four year news archive can also be searched by key word:




---
Recommended Vacation Villas
Our villa on Shoal Bay beach: Bellamare.

And ten minutes away by small plane, our Azu villa in St Barth, that is totally secluded and private, but only a short walk to everything in St Jean, and with unbelievable views.
---
© 2003 Bob Green