If you get a chance to watch a performance of The Cakewalk in Anguilla, don't pass it up. . . .
1999/12/18 - Site Map - Click to enlarge pictures
The Cakewalk
We had this opportunity at Anguilla Great House during a performance by a local dance group for visiting college recruiters. The old-fashioned synchronized couples dancing features fancy costumes, umbrellas, top hats, and a touch of the past. The choreographed dances, for there are many set pieces presented without interruption, are done to music of various rhythms and styles. I don't know how they keep track of what comes next.

According to tradition, the "cakewalk" came to Anguilla when workers returned from Aruba and Curacao in the fifties. It was an instant hit and was frequently performed at picnics and other and other social events. In the eightys, with the advent of "modernism" in Anguilla, the cakewalk died out.

But the cakewalk has now been revived on the island.
Most suitably, the music was provided by the Sleepy and the Allstars string band, which specializes in old-style acoustic West Indian music.
---
The Little Mermaid
People love it when they find an authentic local treat off the beaten path. I know my wife does. When she stumbled on The Little Mermaid restaurant and its spreading old genip tree, she held it over me that she knew a secret place. And she took a party of 10 there on an impulse for dinner (a reservation would have been smarter, but the owner Daphne "Matina" Lake, an Anguillian who lived many years in St Thomas, created ten dinners and setup up a buffet for us too.

While they have a perfectly nice bar and tables indoors, the attraction is their shaded outdoor patio. A fun place for a casual party and a relaxed place to take children, since they can play in the enclosed courtyard while you dawdle over your dinner.

And you enjoy a game of pool, but you will need 4 EC quarters and should observe the local etiquette (you can't hog the pool table and after you have won your game, you need to take on the challenge of the waiting players or relinquish possession).

Or, you can try dominos, West Indian style (much faster, theoretically simpler, and with a distinctive snapping down of your domino). If you want to learn how, ask Jamel Lake, Daphne's son (pictured above). He is an expert player will be glad to show you the rules and even give you a few tips.

They serve both lunch and dinner, but it is best to call first because the fish is always fresh. Email: jamelklake@yahoo.com, Web site at web.ai/mermaid and Telephone: 1-264-497-5523.

Directions: Start in the airport parking lot, take the only exit and turn left, continue straight past Island Car Rentals and Anglec and National Bank. Turn right at Alberts Supermarket and continue straight. Just past Proctors Market the road makes a sharp left, then soon a sharp right. Take the next right turn and you should quickly see the Little Mermaid on the left.
---
Ashley's Is Back!
Amazing Ashleys. Whoever said things happen slowly in the Caribbean has not met Ashley Brooks and family.

Anguilla has several decent markets, but Ashley's was always the place to go if you needed Dal Rcculto Pesto alla genovese or Sesame Oil or Grillaise (grilled mayonaisse). Unfortunately, Hurricane Lenny flooded this store with 4 feet of water. Two weeks later and the entire store had been drained, cleaned, power-washed, scrubbed, sanitized, and restocked. They are even ready for Christmas shopping.

Connie the manager (email: ashleys@anguillanet.com) has restocked the store (luckily she orders for 2 months in November due to Xmas delays). People from the church and the community came down to the store every night to help with the cleanup. Even Teacher Art and his wife were there. And Ashley's has their traditional christmas gift for regular customers already in stock and ready to go: baked hams. Luckily, the family's vacation apartments, Oceanbreeze are undamaged, still have a pool, and have bookings available for this season.

Below are the before and after pictures:
Before: Nov 19, 1999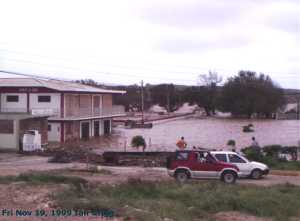 After: Dec 4, 1999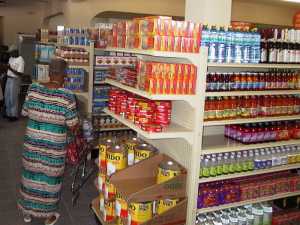 Ian Grigg posted a report about Ashley's reopening to the Anguilla Mailing List:
"Ashley's is back ! !

Downstairs was wasted by Lenny, completely flooded out. For those who don't know, by the time the Health Inspector got in there, about 4 days after the hurricane, he took one look and condemmed the lot. A Blessing as it turned out, as it made it easier to just flush the stuff out, clean, clean and clean, then fill, fill, and fill.

Tonight we dropped in and did our shopping, a routine interrupted by Lenny and his fifty centimetres of rain. Uh, sorry, that's 20 inches for the old timers. Saturday night shopping at Ashley's is a custom, more, a natural law for many of us here, followed by ribs, chicken, and johnny cakes at Carl's over the road.

Sadly, Carl ain't rolling yet but Connie is rocking! With a smile wider than a beach with sand, Connie and her team are pushing them goods out, having converted her olympic swimming pool into a shopping mall, all within two weeks of Lenny.

True, the shelves don't look their fullest yet, and the ice cream is missing, but, my Mum never wanted me to eat it anyway. There's a *huge* aisle of pringles and chockie biscuits, and even lots of them veggie things that go in salads and pots.

Upstairs wasn't damaged at all, and as well as being chocka full of appliances, kitchen stuff and all that good kit, it is now the defacto computer room, with ol' eagle eyes watching them machines. Server washed down the carpark in the flood?? No worries, mate, we've got backups!

In practice, and in fact, with Connie open for business, Anguilla is also Open For Business and building up for the traditional christmas season.
---
Original Barbers
Need a haircut on Anguilla? I had my first cut at Original Barbers two days before Hurricane Lenny and the oncoming storm didn't stop them from doing an excellent job. Original Barbers feels like a "real barber shop", with three chairs and two barbers, Ashton (Nugget) Brooks and Basel, who do a good job on all types of hair. They have air conditioning and of course they have reflecting mirrors. EC$ 20 for a cut. 8am - 6pm Mon-Fri. 6am - 6pm Sat. South Valley. Appointments: 497-5494.

Directions: from the airport parking lot, take the only exit and turn left, go straight past Island Car Rental and the National Bank, turn left at Albert's Supermarket. Go past the library and the high school, turn left at the "former temporary roundabout" intersection (i.e. by Public Health), take the next right, go past Valley Primary School and Landsome Bowl, continue straight through the roundabout at Ashleys Supermarket and watch on the right in about 100 yards for the white wooden building with the blue door (easiest parking is across the street). Video games in the first room, barbers in the second!



---
Weather in Anguilla
| Weather Summary | Anguilla |
| --- | --- |
| Today: Cloudy 77F 25C 70% Humidity, | December 17 |
| Low temp since last news report | 75F 23C |
| High temp since last news report | 82F 27C |
| Low humidity since last news report | 51% |
| Tropical storm web sites | Link Alt |
| Anguilla weather forecasts | Link Alt |
---
Anguilla Diary: Nov 29 to Dec 18, 1999
Here is a day-by-day compendium of news items, as we gathered them - starting with the most recent.
Friday, December 17, 1999
Devonish Gallery News. They have moved into a new building and location on Cove Road West, and have an exhibit opening Friday, Dec 17th of Valbona Bardhi, an Albanian artist who has lived in Anguilla for the past year. Courtney Devonish, the sculptor and potter, is joined by his wife, Carrolle, a bead artist whose work is also featured at the Gallery. In addition, a cooperative venture, SOMETHING SPECIAL, next door to the Gallery will feature fine gifts, jewelry, perfumes, a boutique, cigars and coffee. For more information, call 1-264-497-2949. www.devonish.ai

---
Thursday, December 16, 1999
Slick's Opportunity Is Slipping By. Anguillian Slick Carty has a January opportunity for a month's professionaly training for the 2000 Paralympics. Unfortunately, this training is in Australia and he needs to raise $18,000 for the trip. Understandably, Hurricane Lenny is consuming the charitable giving on the island, but if there is anyone off-island who would like to step up and sponsor this athletic endeaver, they should email to judith@freemail.ai


---
Wednesday, December 15, 1999
Sagittarius Party. It is rumored that Drak and John Benjamin have organized a special dinner/party for those born under the sign of Sagittarius at Malas Cottage (497-5030) Thursday Dec 16 (before the benefit concert). Correct me if I have any of it wrong.


---
Hurricane Lenny Benefit Concert. "Reggae Millennium" featuring Third World at the Landsome Bowl, Dec 16, 1999, 9pm (nominal starting time). Admission US$15. Tickets available at many places - ask around.


---
Friday Dec 17th Is a Holiday. Separation Day is a Public Holiday in Anguilla. Therefore, this Thursday is a good party night. Schools are out for the holidays and Christmas decorations are up.


---
Jo-Anne Mason Exhibit. "The Wind - storm survivors" opens Dec 16, 5-7pm at Savannah Gallery on the road to Crocus Bay, The Valley, Anguilla. Exhibit runs until Jan 3, 2000.


---
Serenity Full Moon Bash. Relax, unwind and submerge your taste buds with one of Serenity's Dinners, or just join us at the Beach Bar on the beach for your after dinner drink in the serenity of a Full Moon Bash. Music and free hors d'ouevres will be provided.

Wednesday, December 22, 1999. From 7:30pm until... Serenity Restaurant. Upper Shoal Bay. 264-497-3328.


---
Tuesday, December 14, 1999
Tourist Board Update. Marva Gumbs at the Anguilla Tourist Board (email: marva@gov.ai) sends this update on the hotels and restaurants in Anguilla:

Hurricane Report

As of 15 December 1999

Further updates will follow.

Hotels/ Villas/ Apartments/ Inns

Allamanda Beach Club-Open
Roy's Beachfront Inn- Open
Kerwin Kottages-Open
Paradise Cove- Open
Anguilla Great House- Open.
La Sirena- Open
Inter Island Hotel- Open
Anguilla Connection – Villas open
PREMS Cottages – Most villas are in operation
KEENE Enterprises – Most of their villas are in operation
Easy Corner Villas- Open
Coyaba Manor – Open
Cinnamon Reef Hotel- Open
Ferryboat Inn- Open
Skiffles Villas- Open
Harbour Villas- Open
Caribbean Seaview- Open
Shoal Bay Villas- Open
Elodia's- Open
Patsy's Seaside Villas- Open
Rendezvous Bay Hotel – Open .
Millie's Inn- Open
Kellyvilla- Open
Carimar Beach Club- Open
Frangipani Beach Club- Open
Caribella Resort-Open
Malliouhana Hotel - 18th December
Coccoloba Valtur - 18th December contingent on construction materials arriving on island
Cuisinart Resort and Spa- opening Dec 20
Seahorse- December
Syd-Ans- December
Sonesta Beach Resort- February 16th, 2000
Covecastles- January 29, 2000
Mariners Beach Resort- Closed
Blue Waters-mid- January,2000


Restaurants

Luciano's- Open
Roadwell Café- Open
Smokey's – Closed
Restaurant ICI – Closed
Koal Keel – Closed
Scilly Cay – Open
Hibernia - Open
Mango's – Open
Old House – Open
Mala's Cottage- Open
Palm Court - Open
Straw Hat - December 16, 1999
Blanchard's- Closed
Ripples-Open
Rafe's Open
Roy's- Open
La Verandah- Open
Ferryboat Restaurant-Open
Leduc's- Open
Oliver's- Open
Palm Grove- Closed
Le Beach-Open
La Terrasse- Open
Old Caribe -Open
Top Of The Palms- Open
Madeariman - Open
Uncle Ernie's- Open
Pepperpot- Open
Smitty's-Open
Billy's Café- Closed
The Dune-Closed
George's-Closed
Pimms-Closed
Trattoria Tramonto- Closed


Nightlife

Déjà vu- Open
Johnno's- Open
Pumphouse-Closed





---
Lenny Satellite View. Richard Moore (email: richard@coastal.edu), Professor of Biology at Coastal Carolina University writes:

Bob - this is the most spectacular satellite image I have seen of Hurricane Lenny.

Click here for the full satellite view in a reasonable-sized format (90KB). This was taken on Friday, Nov 19, 1999, when the eye of the storm had moved slightly south of St Barts.

Here is what the NOAA notice on the image says: "Hurricane Lenny continues to move very slowly eastward in the eastern Caribbean. The storm is still centered near or over islands in the northern portion of the Lesser Antilles chain. The storm has moved very little in the past 24 hours which has resulted in a prolonged period of very strong winds and very heavy rains for some of these islands."

If you have a huge monitor, you can try the original 1280x1093 version from the NOAA, but it is 811K in size, may take a long time to download, and would not display in my version of Netscape.


---
Sunday, December 12, 1999
Another Anguilla Travel Forum. The Caribbean On-line site has a forum for Anguilla. It doesn't have too many messages yet, since it only went live on Nov 23rd.


---
Saturday, December 11, 1999
The Dune Will Be Rebuilt. Andrew Dennen (email: adennen@zemimusic.com) reports:

Word from Bankie Banx is that he will be rebuilding The Dune Preserve bigger and better than ever. Some structural changes will be made to accommodate Mother Nature, but Bankie plans to have The Dune completed by March 1, 2000.

For details on Bankie, The Dune Preserve and the Moonsplash Music Festival, check out www.zemimusic.com and follow the links. Catch Bankie performing at the Hurricane Lenny Benefit Concert on Thursday, Dec. 16, 1999, featuring Third World. Bankie will be performing songs from his latest CD, Stuck In Paradise, which is available through ZEMI Music mail order. Moonsplash was originally scheduled for March 17 & 18, 2000. Word should be forthcoming by year's end on either confirmation or change of these dates. Based on the status of The Dune, Bankie and the Moonsplash Team are keeping options open in terms of alternate dates. Thanx!




---
Friday, December 10, 1999
Free Shipping for Anguilla. Jason Butterworth writes

Here is a local company making good news. Deliver It and Trailer Transport Express are offering free shipping of Christmas packages and relief aid from St. Thomas to Anguilla.

The deadline is December 13th and the packages will be delivered later that week. Ken Husky of Deliver It says Anguilla was hard hit in Hurricane Lenny. He is reaching out to Anguilla with Christmas help. Call 776-8660 No commercial packages, just Christmas gifts and relief aid.




---
Fairplay Hurricane Relief Fund. Here are the details on the Fairplay Center hurricane relief fund, with US tax receipt for donations. "One hundred percent of aid is being distributed to poor and severely flooded Anguillian families."


---
Wednesday, December 08, 1999
Cuisinart Opens with Celebration Packages. Today I received a fax from Cuisinart's PR firm in NY announcing:

The official opening date, December 20, represents a delay of only 19 days from the original scheduled date. The resort is offering a Celebration Package from December 20 through January 15, including 7 nights, airport transfers, breakfast on your terrace, 2 spa treatments, one dinner for 2, and access to all non-motorized watersports. Rates begin at $4,480 per couple.

By opening day the resort expects the beach to be 60 to 70% restored, with access provided at two strategic points through the dunes.

For reservations or info, phone 800-937-9536 or visit www.cuisinartresort.com




---
Lenny Issue of News in Italian. Gaetano Di Palo has completed translating the long Nov 28 Lenny update issue of News.ai into Italian


---
Anguilla Music. Jason Butterworth (email: butterworthj@anguillanet.com) reports on the Anguilla Mailing List:

There has been a recent press release on Radio Anguilla that there will be a benefit concert and Telethon to raise funds for the victims of hurricane Lenny. It will be held on the 16th December at Landsome Bowl in Anguilla, and features the prominent reggae band Third World from Jamaica, Bankie Banx and the Reggae Groovers from Anguilla. It will be braodcast on WLIB in New York and in the USVI. Tickets are US$15 each ...

As an aside, Bankie Banx is now performing on Wednesday evenings at the Anguilla Great House, and Dumpa will be playing steel pan music at Roy's Place every Saturday ...




---
Webster-Dyrud-Mitchell has a new web page at wdm.ai. There is also a web page for their affiliated trust company: FirstAnguilla.com


---
Tuesday, December 07, 1999
Anguillan Divers Open. Frieda Vandenplas writes that they are fully functional once again. The dive boat is in the water and they are ready to take people out to enjoy the underwater sites.


---
Serenity Opened Last Night. One of my reporters writes

Serenity Restaurant on Shoal Bay is open and in full swing again: both lunch and dinner. Still no telephone, but there is now access from the beach once again. As always, lunch was awesome.




---
Monday, December 06, 1999
Government Web Site Started. Gov.ai is up, including a site for the Postal Service.


---
Sunday, December 05, 1999
Italian Translation Posted. The Anguilla News for November 7th has been translated and posted to our web site. This is the issue prior to Hurricane Lenny. Thanks to Gaetano Di Palo.


---
Friday, December 03, 1999
Good News.

I heard through the grapevine that Frangipani is not only open (old news), but it is full this week!

And, Ashley's Supermarket is hoping to reopen on Saturday (tomorrow)! That is amazing, considering that they had to throw away most of the food and redo the store from scratch (it was under water). But they worked on it 24 hours a day since the storm stopped.




---
Thursday, December 02, 1999
Harbor Lights in Island Harbour. Karen Butterfield (email: kbutter@aol.com) reports that her sister Kathie and her mother will be reopening the Harbor Lights waterfront apartments in December.


---
Wednesday, December 01, 1999
Lloyds Is Ok. Lloyds Guest House is open and suffered no damage. Vida and the staff are fine, power and cable TV are on but the telephone is still out, so use email: lloyds@web.ai


---
La Veranda is Open. Stacey and Didier (email: laveranda@anguillanet.com) announce:

We are really happy to say that La Veranda Restaurant will be open today, Wed, Dec 1.

Open for lunch 12-3pm and dinner from 6:30-10:30pm. Don't forget our Happy Hours every evening from 5-7pm. We'll be serving icy cold beers and cocktails at reduced prices. Closed Mondays.




---
Tuesday, November 30, 1999
Wallblake Raffle Drawing. The drawing for the winner of the Wallblake House raffle went ahead in spite of the storm. The winner of the trip to Anguilla (air fare, Malliouhana hotel stay, and car rental) was Kenneth Nicholson. The amazing coincidence is that his wife won the prize draw last year!


---
The Light. This weekly newspaper has email at thelight@anguillanet.com

Last Friday, just after the storm, the webmaster posted a special Hurricane Lenny report on The Light web site, with this disclaimer: "This report is compiled by Roy Peacock and in no way reflects any editorial policy or agreements by The Light."


---
Radio Anguilla. This government-operated radio station has email at radioaxa@anguillanet.com


---
The Anguillian. This weekly newspaper's email address is theanguillian@anguillanet.com - they do not yet have a web site.


---
Pumphouse by January 2000. Marva Gumbs of the Tourism Office (email: marva@gov.ai) reports

I just spoke to Laurie Gumbs and the Pumphouse will hopefully be open by the beginning of January, 2000.




---
Blanchard's Okay. I just talked to Blanchard's Restaurant on Meads Bay. They are okay but will take this time before Malliouhana Hotel next door reopens to repaint and spiff the place up. They plan to be open on Dec 17, 1999.


---
Monday, November 29, 1999
How Busy is News.ai? This web site is now delivering 140 megabytes of information about Anguilla each and every day - the equivalent of about 10,000 pictures. You can see all the statistics on the Stats Page.

These numbers are a little difficult to interpret. For example, 17,000 requests per day includes web pages and pictures requested. So a page with 3 pictures generates 4 requests. And this includes all web sites hosted by bobgreen.net, not just the news pages.

And the value of 56,000 for "distinct hosts" is supposed to mean how many different people visited the site during the 3 month period. But it doesn't because most Internet users get a new dynamic "IP Address" each time they access the net, so they look like a "new host".

But, nevertheless, the numbers are way up over what they were last year at this time.


---
Pictures of the Be Aware Club. There is now a web site with pictures from last summers Be Aware environmental camp for primary school children: web.ai/beaware

There is also a high school age environmental that has been in operation for at least 8 years and had a field trip to Costa Rica, etc. Sorry - no pictures yet.


---
How is Uncle Ernies? For those of you who continue to worry and write us about Shoal Bay and Uncle Ernies, click here for a picture taken today Nov 29 at lunch. Temperature 79F. Humidity 75%.


---
The Dive Shop web site has been updated at scuba.ai - The Dive Shop, Anguilla, Ltd. is a Five-Star P.A.D.I. International training center and offers a complete range of P.A.D.I. certification courses. The retail shop is open seven days a week from 8:00 a.m. to 3 p.m. and carries a large selection of snorkeling and diving equipment and accessories. Don't forget to take the amazing underwater photo tour on their web site.


---
Sunday, November 28, 1999
Bad Email Addresses Dropped.
The following email addresses have been dropped from our list of subscribers today. The reason is that they have returned "USER UNKNOWN" when mail is sent to them. If you recognize yourself here, and wish to be a subscriber, please Subscribe Again with your current email address. If you see someone you recognize, you might send them a note at their current email address.

mckinney7b.banet.net (Cinda McKinney )
imbugaje@hotmail.com
w1kgz@grolen.com (richard des rosiers)
by@metropolitan.com (Brian Young)
iris.shink@tivoli.com (iris shink)
rene@netrover.com (Rene Bacquet)
chiarab19@juno.com (Chiara Becker)
cponsolle@juno.com
timandmo@juno.com (Maureen)
nativo@juno.com (Javier Andrades)
Clark.f.machemer@ac.com (Clark Machemer)
tgemmer@acnielsen.com (Todd Gemmer)
thomas_whartenby@hunter-group.com (Tom Whartenby)
dlake@oneillhotels.com (Doug Lake)
efanning@rlmnet.com
abuntu@sn.no (Amani Olubanjo Buntu)
goldtrader@hotmail.fr (siry)
fkarsai@gj.net (Frank Karsai Jr.)
esubin@earthlink.net (Liz Subin)
cocolopey@earthlink.net (Jeannie Lopez)
grandmaw@acsol.net
werne15@ibm.net (Martin Werner)
jsf@ibm.net (James Fall)
mdeninger@ibm.net (marjorie deninger)
murfgrip@slip.net (shadra murphy)
falkteg@mailbox.calypso.net (Victor E. Falkteg)
lobstr@azstarnet.com (JOHN COMBELLACK)
bdintl@harbornet.com (Larry Buck)
suijuris@es.co.nz (Scott Gregory)
LOWE101@usa.mercedes-benz.com (Joyce Whittington Jordan)
blount@rook.lug.usf.edu (rachel blount)
blount@brill.acomp.usf.edu (anna blount)
betina.borggraefe@hermes.sit.edu (betina borggraefe)
rcalmes@uky.campuscw.net (Cal Calmes)
hake@inet.net (Frank Hake)
STUART.J@WORLDNET.att.net (John Stuart)
k.templien@worldnet.att.net (Juli Templien)
Lisavan@webtv.net
diana.conway@sap-ag.de (Diana Conway)
LOWE502@mbusa.com (RICHARD LAUFER)
rappl@luscombe-utah.com (Lisa Rappl)
phammond@aug.com (phil hammond)
paulieb@prodigy.com (paul boro)
BGCW06A@prodigy.com (Donald McGrath)
lmsb73a@prodigy.com (Denise C. Lloyd)
jhealey@easynet.co.uk
hodgeda@cf.ac.uk
dcdavid@uwimona.edu.jm (Deon David)
mphillipps@ask.bm (Martin J Phillipps)
jkc@tpsinc.com (James Choe)
seamus@biddeford.com (Preston Dalglish)
mlowery@argusconsulting.com (Mark Lowery)
guyaez@home.com (Matt O'Connor)
aruan@ai.com
C-Agoritsas@mail.dec.com
mboyer@ix.netcom.com (Mark Boyer)
scubaxa@prodigy.net (Calvin Bartlett)
dsdowns@prodigy.net (Doug Downs)
lthomas@jhancock.com (Leigh Ann Thomas)
diana.thomas@sap-ag.de
dbryan@clis.com
melbud@icountry.net



---
The Eye. Weber Taylor reports that "Sandy Ground had the eye of Hurricane Lenny at 8:30 PM for nearly 30 min. There was perfect calm, we closed the west and opened the east. It was especially bad from 2 until 4 and quickly all over." Another person from Sandy Ground mentioned this also. It appears that what Lenny did is bounce its eye over Anguilla, then bounce back. Some people had dead calm, others did not.


---
---
---
About Anguilla
Anguilla is a coral island in the North Eastern Caribbean, six miles from St. Martin. Click Here for a map showing Anguilla's relative location. The web pages about Anguilla have been indexed by topic in an Internet Yellow Pages:






---
Searching the News.ai Site
Indirectly, this page links to all known Anguilla web sites, including the many articles in the Bob Green's Anguilla News. To read past issues by date, Click Here. The four year news archive can also be searched by key word:




---
Recommended Vacation Villas
Our villa on Shoal Bay: Bellamare.

And ten minutes away, our villa in St Barths.
---
A Few Special Links
---
© 1999 Bob Green