A Tour of Shoal Bay Beach
www.news.ai Site Map Click to enlarge pictures
Shoal Bay beach is one of the premier stretches of sand in the Caribbean.
(For a spectacular photo shoot of Shoal Bay click here. For an updated walking tour of Shoal Bay East click here.)
It is also the most popular beach on Anguilla and attracts locals, tourists and day trippers from the neighboring island of St. Martin.
Shoal Bay is also one of the places in Anguilla where you can here live music on the beach.
Without a doubt this mile plus stretch of bright white sand and crystal blue waters is probably the most recognized scene for Anguilla, and really represents "Tranquility wrapped in blue".
Shoal Bay East is split into two parts, Upper Shoal Bay and Lower Shoal Bay separated by a curved point of the beach rightly called "the bend".
On most days the "lower" side of the beach is occupied by swimmers, snorkelers and people lounging on the beach chairs sun tanning or enjoying a good book.
Lower Shoal Bay is lined with many beach-bars and restaurants that have been there for almost forever. Starting furthest to the left is Tropical Sunset, to Elodia's Beach Bar to the far right, with the famous Uncle Ernie's and Madearmian Reef Restuarant tucked in the middle. Accommodations-wise, here will you find Shoal Bay Villas and Manoah, which is under construction. At the far west end of the beach are two high-end villas, BeachCourt and Black Pearl and Zemi Beach, which is under construction as well.
Just right of Elodia's is what is known as the bend, a curvature of sand and shallow reefs and continuing west. Walk past this undisturbed part of the beach and you'll find Upper Shoal Bay.
The sea on this end of the beach has eaten away at the shore line, leaving just a little pathway for walking. Which becomes almost impassable during high or windy tides. Gwen's Reggae Grill, Bellamare Villa and Serenity sit at the far end on the beach at the edge of the rocky coastline.
What's most special of all about Shoal Bay? The stunning sunset scenes. Ending the afternoon with Anguilla's natural lightshow, a spectacle of different shades of bright oranges, rich reds and soothing violets, is truly special at Shoal Bay.
Shoal Bay 2000 and Earlier
Changes to Shoal Bay for year 2000 include the major upgrade to Shoal Bay Beach Hotel.
The main road to Shoal Bay dead ends at Uncle Ernie's BBQ. You can park along the road, 100' to 200' up from the beach.
For a glowing review of Shoal Bay, find a copy of Conde Nast Traveller for November 1996. On page 133 in an article entitled "The Secret in the Sand", Ron Hall describes his search for the most perfect sand in the Caribbean.
He reviews some of Anguilla's thirty-plus beaches, including Rendezvous Bay, with its "long, curving ribbon of sand held in the protective arms of a two-and-a-half-mile-long bay", then focuses in on one beach:
"The most pristine sand sample, however, is from long, low, dusty Anguilla, the Caribbean island most envied for the number and quality of its beaches... Shoal Bay's sand is truly amazing: Not only is it as white as coral sand can ever be, but mixed into it are tiny fragments of pure while shell. The effect of wind on ths mixture is to bring the shell fragments to the surface, where they catch the sun and add a distinctive sheen to the entire beach."
A Visit to Shoal Bay.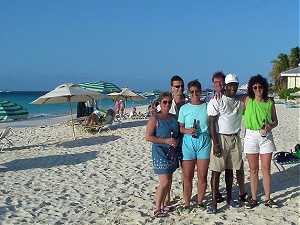 Joanne Pepper (SparkyPep@mediaone.net) wrote on April 2, 2001:
I recently returned from a visit to St. Maarten and I spent a day on Anguilla. There were 8 of us in our group. We were met at the ferry by a taxi and taken to Shoal Bay. Once we arrived we met a most interesting person,.He calls himself the Pressure King. On the contrary, there was no pressure... only pleasure. He set us up with chairs and umbrellas and snorkeling gear for four of us.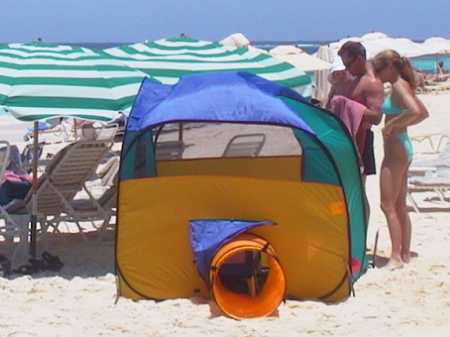 The reefs were just beautiful and the beaches and the views were just spectacular. I wish we had more time to explore more of this beautiful Island.
We finished the day up at Uncle Ernies. What a cool place and you couldn't ask for a better location. I would like to return someday and if I do, I will be sure to stop in and say Hi to the Pressure King and Uncle Ernie to thank them again for a wonderful day.


This is the busiest part of the beach, where you can rent shaded lounge chairs from Raymond at Skyline or Pressure King, or any of the beach restaurants from New Round Rock to Elodias. Of course, many people enjoy the beach without a lounge chair. You can see the reefs on Junior's or Mike's glass bottom boat, and snorkel parts of it yourself.

Stroll East to Upper Shoal Bay
The Quiet End of the Beach

If you turn right you go east past Shoal Bay Beach Hotel, Shoal Bay Villas Then you come to a wire fence which is the boundary of Elodias Beach Bar and the Elodia's apartments. Milly's Inn is on the hill above this spot. About halfway down the fence toward the point is the easiest place to snorkel the reef. This is also the spot of an archaeological dig.

The shore at Shoal Bay is usually gentle and quiet, due to the reef protection. Often there is no surf at all. This is a good place to take young children and grandmothers. However, there can be light surf when there are storms out in the Atlantic, so check conditions when you get there.

At the point you turn right around a corner into Upper Shoal Bay (pictured above right).

Allamanda Beach Club and Gwen's Reggae Grill.

This long portion of Shoal Bay usually has fewer people and has a quieter feel. At the end of the beach you will find Serenity Restaurant and Cottages, and News.ai's own Bellamare property (picture right).


Bellamare is an idyllic Caribbean style home with modern amenities, located just steps from the sands of beautiful Shoal Bay East. Bellamare offers seclusion and quiet in a setting where the line is blurred between indoor and out. Breezes flow from space to space and shade abounds as a result of the lush tropical gardens. Each room is designed with relaxation in mind and finished with Caribbean flare. Move easily from bedside to poolside as the property layout is centered round a main infinity pool that blends seamlessly with the horizon. Leave your watch at home and let the sunsets dictate your schedule at Villa Bellamare.
Villa Bellamare offers beach-goers three luxury bedroom suites, featuring large private bath gardens, with unparalleled beach access right outside the back gate. Two have king-size beds and the third in the guest cottage has a queen-size bed.
You will also pass pallet fences designed to rebuild the sand dunes along the beach.
There is a limestone ridge that runs along just off shore for about 100 yards that is perfect for novice snorkelling. It isn't coral, so you don't have to worry about cutting yourself on it. You can snorkel up the outside of this ridge in water that is shallow enough to stand in easily (2-3'). In the usually clear waters you will see hundreds of small tropical fish. There is also good snorkelling along the rocky shore at the eastern end of beach.

The Western End of the Beach

Return to Uncle Ernie's, where we started this tour, and now turn to the left, or west: first thing you see is Madeariman Reef Restaurant and the Madeariman Beach Club (resort opened Dec 2000).

On many days you may also see Joan's beach wrap display under a tree on the beach. The unfinished structure on the beach is the original Round Rock Bar, which blew apart in Hurricane Luis.

The Tropical Sunset beach bar and restaurant (used to be the New Round Rock Bar, and before that Hardbroke) currently offers dinner in addition to day time beach bar services.

Along this part of the beach there are some exposed stretches of rock and reef, so be careful. At the west end of Shoal Bay beach is Fountain Beach Hotel. And just past that is BeachCourt Villa and then shoreline and then Villa Dina.

That was a long tour. To finish it off, come down to Shoal Bay about 6:30pm, share a Pina Colada, and take a romantic swim while watching the sun set into the water.

Directions: This is a long beach and you can actually approach it from three directions. The normal route is by paved road from The Valley. Start in the airport parking lot which has only one exit. Turn left on Airport Road, go straight past Island Car Rentals, Anglec and through the light at Albert Lake's Super Market. Continue for 2 miles through Stoney Ground and Little Dix, and turn left on a paved road toward Shoal Bay (there are restaurant signs here -- if you get to the cement plant you missed the turn).
The road goes over a hill and descends into Shoal Bay. At the bottom of the hill you can go straight to Uncle Ernies. Or turn right on a gravel road that runs to Milly's Inn, Allamanda, Serenity and the Shoal Bay Penthouse. Or turn left on a gravel road and take the first right turn for Tropical Sunset.
Revised: 2013/10/09
More on Shoal Bay And Other Major Anguilla Beaches

---
Subscribe to the Anguilla News: Click Here.