A Tour of Rendezvous Bay
This long perfect crescent faces St. Martin and has plenty of room for three resorts, while still having long stretches of undeveloped beach.

Going from east to west on the bay, the first resort we come to is the Rendezvous Bay Hotel, which has suites directly on the sand and also on the rocky shoreline adjacent to the beach (where there is also a restaurant, Cedar Grove. The picture above shows the beach, looking back east toward the hotel.

Bart, the manager of the Rendezvous Bay Hotel, is a very helpful person. By calling ahead, we were able to arrange with Bart to use the hotel parking to start our exploration of the beach.
The beach in front of Rendezvous Bay Hotel, looking east toward Cul De Sac point with St. Martin in the background:
Looking forward toward the setting sun and the next resort: the Anguilla Great House:
For public access to Rendezous Bay Beach, take the turn off from the main road for Anguilla Great House (between South Hill Plaza and CuisinArt) and follow this road straight to the water.
Another hundred yards down the beach is the elegant CuisinArt Resort and Spa (with friendly bartender at the beach bar):
And finally, we come to the Dune Preserve, a funky beach bar with food, drink, and entertainment:
---
Weather in Anguilla
| Weather Summary | Satellite |
| --- | --- |
| Sunny 82F 27C 62% Humidity, | May 3 |
| Low temp since last news report | 613F 322C |
| High temp since last news report | 82F 27C |
| Low humidity since last news report | 41% |
| Tropical storm web sites | Link Alt |
| Anguilla weather forecasts | Link Alt |
---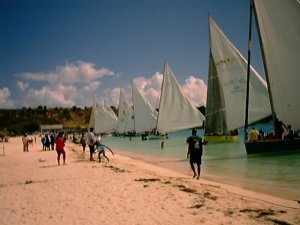 Festival Del Mar and Regatta: 23 May – June 1, 2003
The activities will start on Friday 23rd May, with a seafood night special and music at Snappers Restaurant in West End. This will start at 7.00pm. On Saturday 24th May the action moves to Sandy Ground with a number of activities (pond boat race, model boat races and other activities). Action should start at about 10.00am. On Sunday 25th May Island Harbour will come alive with sports on the beach. This event will feature a C-class boat race, sunfish race, a triathalon to include swimming, running and sunfish sailing. This will start at about 10.30am and go until 6.30pm.There will be music and seafood on sale in Island Harbour.

First Anguilla Yacht Regatta: May 30 – June 1, 2003

The Anguilla Tourist Board and the Anguilla International Yacht Club are teaming up to organize the First Anguilla Yacht Regatta from May 30 - June 1, 2003.

The schedule involves:

Friday May 30th – "Around The Island Race": The yachts will leave about half an hour after the local boats that will be competing in the usual Anguilla Day Boat Race. These races normally start at 9.30am so the Regatta races will start at about 10.00am. This combination of yachts and local boats will present a very colourful spectacle for viewers on land around the island.

Saturday May 31: "Around the Buoys Race" will involve yachts only. The race will start at about 10.00am. The route will go to Anguillita and Dog Island in a triangular format. (Check www.anguillayachtclub.com for a detailed map of the route.)

Sunday June 1st June: This is being called "Friendly Race" with an exchange of crew, which will see some of the local boat race crew racing yachts and some of the yachtsmen racing on the local boats.

Each day there will be live music starting from 6.30 pm. A stage will be erected on the beach beside Johnno's in Sandy Ground and there will be local and regional bands performing. Prize giving will preceed the start of the beach party at about 6.00pm.

The Theme of this first Regatta is " GO....MIX UP!" The objective of this Regatta is to diversify our tourism product and provide some activities prior to Summer Festival. There are a number of sponsors for the event which are available on the website (LIAT 1974 Ltd was just added.)There will be free cruising permit for all entries. The entry fee is US $60.00 per boat. Approximately 20 yachts are already confirmed for the regatta. For accommodation specials for this period check the AHTA web site. For further information, contact The Anguilla Tourist Board at atbtour@anguillanet.com. Tel. 264-497-2759.
---
Anguilla Daily Diary
Here is a day-by-day compendium of news items, as we gathered them - starting with the most recent.

April 7, 2003 to May 4, 2003
Sunday, May 04, 2003
Moonlight Excursion at Limestone Bay

Ijahnya Christian writes:

The Anguilla National Trust will be holding its annual moonlight excursion at Limestone Bay on Saturday May 17th from 7.00 p.m. until… Bring your food ­ buy your drinks. There will be a sizzling grill, a cash bar and sweet, sweet Anguilla music. Remember the Anguilla Revolution! Support the National Trust! Dance under the light of the full moon! It's a moonlight excursion - Saturday 17th May at Limestone Bay. It's a family affair. Come celebrate the Revolution with the Anguilla National Trust. All are invited.
This small inn in Blowing Point has added air-conditioning, updated their web site, and updated their prices:

Summer rates with air-conditioning: Junior $68. Deluxe: $88. Penthouse: $339.

For next winter, Junior: $ 69. Deluxe $89. Penthouse: $359. Junior w/AC $78. Deluxe w/AC $98. Penthouse: $359.

Email: pavillioninn@aol.com Web: www.pavillion-inn.com
......Permanent link for this news item.

Mr. & Ms. Classic Bodybuilding Show

Another exciting round of bodybuilding is coming! Mr. & Ms. Bodybuilding Classic Competition is scheduled for 23rd May 2003 at Chandeliers starting at 8pm. Competitors are expected from St. Kitts, Nevis, British Virgin Islands, St. Maarten and host country Anguilla. See Mr. Classic and Mr. Anguilla come up against Peter, Joe, Desmond, Verdine and Tweedy compete for this prestigious title.
......Permanent link for this news item.

Friday, May 02, 2003
Bids Have Increased to $400

The AHTA auction of a stay at CoveCastles been bid up to $400. Which would be quite a bargain for 5 nights, including tax and service!
......Permanent link for this news item.

Construction Details

Sunset Homes has updated their website to show progress on kitchen cabinets, tiling and wood details.
Wood details
Kitchen cabinets
Tiling

......Permanent link for this news item.

Splash Villa Summer Special...Complimentary Jeep for your entire stay!

Unwind and relax on a getaway special at Splash Villa...a lovely 3 bedroom villa tucked away in the sunny isle of Anguilla. Enjoy the tranquility and comfort of your very own private Caribbean hideaway. Private pool. Jacuzzi-for-two in master suite. Tranquil setting. Just a few minutes drive from great restaurants and the gorgeous 2 mile Rendezvous Bay.

Complimentary jeep rental for your entire stay....perfect for exploring the island in comfort! Spacious air-conditioned Grand Vitara Suzuki jeep. 4 door/4 wheel drive/Stereo. Special Offer Valid: May 1 - July 14, 2003. Package rate: US$1,700 inclusive of service and tax per week. www.splash.ai edwards@anguillanet.com
......Permanent link for this news item.

Thursday, May 01, 2003
Student Art Show!

During this past season the artists of Loblolly Art Studio, Marge Morani and Paula Walden plus other guest artists, Georgia Young, Peg Gregory and Beverly Seal donated their time and expertise to give art classes on Saturdays to 6 young promising Anguillian students. It was the generous donation of money for art materials by Margaret and Dave Thomas that enabled the students to be creative and learn with watercolors and acrylics. They also had cartoon classes with Beverly Seal which they enjoyed.

This Friday, May 02 from 4-7 the students will be having an art exhibition at Loblolly Studio on Crocus Hill. It will also be the closing show for the season.
......Permanent link for this news item.

Wednesday, April 30, 2003
Braiding Extravaganza

There's a new spot in The Valley where you can have your hair braided. Young entrepreneur Desiree Richardson who's been braiding since childhood has now opened her own boutique. Whether you just want a few stylish braids or all your hair done Desiree and her team would be happy to help. They are usually opened seven days a week from 9am - 9pm but it's best to make an appointment. They can also arrange to come to your villa or hotel to do your hair. Tel. 772-2603 for appointments. Email: desiree_eddy@hotmail.com. Located in the Herbert's Commercial Centre, opposite The Valley Post Office. Upon entering the complex the boutique has a sign out front and is located on the first floor on the right hand side.
......Permanent link for this news item.

Tourist Board: Annual Calendar of Events

The tourist board web site has this list of events for the rest of the year. As you can see, Carnival starts August 1 and goes through August 8.
......Permanent link for this news item.

New Address: Daily Pictures

Michel's site for 4 daily pictures from Anguilla has moved to a new URL.
......Permanent link for this news item.

Tuesday, April 29, 2003
Bid for a Stay at CoveCastles on the AHTA Auction Site!

The Anguilla Hotel and Tourism Association is proud to announce the launch of its new auction web site www.anguillaauctions.com

The site features auction lots of donated prizes from member establishments. The first auction lot to be featured is a five night stay in a one bedroom Beach House at luxurious Covecastles Resort on Shoal Bay West. The package includes daily continental breakfast and all government taxes and service charge.

Opening bids on the AHTA auction lots will be priced conservatively and minimum bid increments will be listed at only US$25.00 in order to generate enthusiastic participation from Anguilla lovers. The starting bid for the Covecastles package was US$300.00 but quickly jumped to US$350.00 even before yesterday's official launch. Bidding is expected to be fun and exciting with auction lots being featured for a maximum of only two weeks. Bidding is open to the general public including AHTA members and their employees. In the coming months, the AHTA hopes to feature not only hotel and villa stays on the site but art work, watersports excursions, meals, car rentals and other tourist products and services as well.

The idea for an AHTA auction web site was first introduced by Wilbert Fleming, manager of Anguilla Great House Beach Resort and a member of the AHTA Board of Directors. It is one of the first such sites in the region and is expected to be a primary source of non-dues revenue for the AHTA. For more information on the AHTA auction web site, please contact the AHTA at 264-497-2944 or email ahta@anguillanet.com.
......Permanent link for this news item.

Monday, April 28, 2003

Take a Side-Trip to St Barth

St. Barth is one of the nearby islands that is easy to visit from Anguilla and worth a couple of days. How to describe it? Think of an upscale French St. Martin: high energy, clean, mountainous, sophisticated, charming houses with red roofs, yachts, expensive, more developed and noisy than Anguilla.

St Barth has many beaches, but they are not the reason to go, as they are not up to the standard of Anguilla beaches. There is excellent dining, nightlife, shopping, and a European village atmosphere.

The easiest way to get there is via Winair, a 12-minute flight from Anguilla with an exciting landing ($125-$150 roundtrip). You can also take a boat from St Martin, but the crossing can unpleasant if the seas are not calm. Voyager leaves Marigot at 9am, take the 8am ferry from Anguilla.

St. Barth has a wide range of dining choices (even Thai and Vietnamese). Prices are about the same as Anguilla at high-end restaurants. A place we recommend is Andy's Hideway in St Jean for great food, friendly service, and low prices.

Gustavia has fun nightlife during the tourist season and on weekends, with several places within easy stroll of the inner harbour for live music and dancing.

There are hotel options in most prices, plus hundreds of villas for rent. We stayed in a charming, one-bedroom villa on St. Barth: Villa La Siesta was in an amazingly quiet residential area, with expansive views over a rural valley to the sea. It was wonderful to come back from shopping, traffic, excitement and noise, to this refuge.

US dollars are accepted everywhere. To buy food, visit Match supermarket across the street from the airport (you need a 1 Euro coin to rent a cart). Maya's To Go near the gas station is an excellent deli, as is La Rotisserie in St Jean. You will need to rent a car: all the companies have booths at the airport. Power is European 220V, not 110V. Visitors from US, EU or Canada need a passport. Others need a visa. For local calls, dial 0590 + 6 digits. To call St Barth from Anguilla or the USA, dial 011-590-590 + 6 digits.

You should rebook your return flight 48 hours before departure. The number for Winair is 0590 22 54 35. And don't be late for the return flight - they sometimes leave early! Don't time your return from St. Barth too closely to your departure from Anguilla, as the Winair flights have been known to be cancelled.
......Permanent link for this news item.

Sunday, April 27, 2003
Anguilla Rums

Here is the web site for Anguilla Rums, who bottle Pyrat rum in Sandy Ground.
......Permanent link for this news item.

Easy Corner Villas

Here is the web site for this property in South Hill.
......Permanent link for this news item.

Anguilla Great House

Here is the web site for the Anguilla Great House on Rendezvous Bay. Includes photo tours of the rooms.
......Permanent link for this news item.

Saturday, April 26, 2003
April Visit to Anguilla.

Thom writes on the Anguilla Travel Forum:

We just ended our third trip to Anguilla so we are feeling a little blue. Already we are planning our next trip. As in our other visits, it is the beauty of the Anguillian people who make each of our vacations so wonderful. My only advice to others is try to attend some of the local celebrations, so that you can mix and experience the spirit of Anguillians.

Photos of their trip.
......Permanent link for this news item.

Wednesday, April 16, 2003
NY Post on Anguilla

This article is from the Sunday travel section. Click on the article image to get the text in a readable window.
......Permanent link for this news item.

Tanama.net: Graphic Design

Thierry Dehove, husband of hairdresser Sophie, has opened a business in Anguilla to do graphic design. He has a lot of experience with print and web graphics. Tel: 264.497.8273. Email: thierryrd@anguillanet.com
......Permanent link for this news item.

Wednesday, April 09, 2003
Heart Beat Radio Online

This Anguillian radio station now has a web site and a live webcast, so you can listen to Anguillian radio from anywhere in the world. Open the web site in a new window and click on Webcast. (Tip from Anguilla Travel Forum.)
......Permanent link for this news item.

Summer 2003 House Rental - West End

West End Home - Great Views of St. Martin - Quiet - Comfortable. Anguilla House for Rent June thru August 2003 - $1500/month for three months. Fully furnished, 3 bedrooms, 2 baths, full kitchen, home office, dining area, living room, porch. Computer and printer - internet service included, fax, 2 TV's, VCR, stereo. Twice a week maid service, ALL utilities included. Great summer vacation spot - sleeps 6; Ideal for writing or creating. Contact Wendy at 264-497-8097 or wendyaldenrogers@anguillanet.com
......Permanent link for this news item.

Villa Construction Progress

Sunset Homes has updated their website which shows the latest progress on the North Hill villa finishing touches. Another progress report.
......Permanent link for this news item.

Pictures of the Triathalon

Chris Mason has posted photos of last weekend's 5th annual Optimist Triathalon. It looks like everyone had a great time.
......Permanent link for this news item.

Fourth Anguilla International Art Festival

The organizers of Anguilla's International Art Festival have announced the next festival, for 2004.. As in past years, the first prize is US $10,000! Dates are December 1-8, 2004. For more information, click the link above.
......Permanent link for this news item.

---
---
About Anguilla
Anguilla is a coral island in the North Eastern Caribbean, six miles from St. Martin. Click Here for a map showing Anguilla's relative location. The web pages about Anguilla have been indexed by topic in an Internet Yellow Pages:






---
Searching the News.ai Site
Indirectly, this page links to all known Anguilla web sites, including the many articles in the Bob Green's Anguilla News. To read past issues by date, Click Here. The four year news archive can also be searched by key word:




---
Recommended Vacation Villas
Our villa on Shoal Bay beach: Bellamare.

And ten minutes away by small plane, our Azu villa in St Barth, that is totally secluded and private, but only a short walk to everything in St Jean, and with unbelievable views.
---
© 2003 Bob Green