Ashley's Is Back!
www.news.ai Site Map Click to enlarge pictures
Amazing Ashleys. Whoever said things happen slowly in the Caribbean has not met Ashley Brooks and family.
Anguilla has several decent markets, but Ashley's was always the place to go if you needed Dal Rcculto Pesto alla genovese or Sesame Oil or Grillaise (grilled mayonaisse). Unfortunately, Hurricane Lenny flooded this store with 4 feet of water. Two weeks later and the entire store had been drained, cleaned, power-washed, scrubbed, sanitized, and restocked. They are even ready for Christmas shopping.
Connie the manager (email: ashleys@anguillanet.com) has restocked the store (luckily she orders for 2 months in November due to Xmas delays). People from the church and the community came down to the store every night to help with the cleanup. Even Teacher Art and his wife were there. And Ashley's has their traditional christmas gift for regular customers already in stock and ready to go: baked hams. Luckily, the family's vacation apartments, Oceanbreeze are undamaged, still have a pool, and have bookings available for this season.
Below are the before and after pictures:
Before: Nov 19, 1999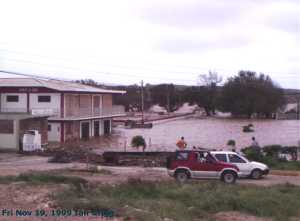 After: Dec 4, 1999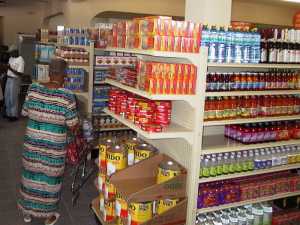 Ian Grigg posted a report about Ashley's reopening to the Anguilla Mailing List:
"Ashley's is back ! !

Downstairs was wasted by Lenny, completely flooded out. For those who don't know, by the time the Health Inspector got in there, about 4 days after the hurricane, he took one look and condemmed the lot. A Blessing as it turned out, as it made it easier to just flush the stuff out, clean, clean and clean, then fill, fill, and fill.

Tonight we dropped in and did our shopping, a routine interrupted by Lenny and his fifty centimetres of rain. Uh, sorry, that's 20 inches for the old timers. Saturday night shopping at Ashley's is a custom, more, a natural law for many of us here, followed by ribs, chicken, and johnny cakes at Carl's over the road.

Sadly, Carl ain't rolling yet but Connie is rocking! With a smile wider than a beach with sand, Connie and her team are pushing them goods out, having converted her olympic swimming pool into a shopping mall, all within two weeks of Lenny.

True, the shelves don't look their fullest yet, and the ice cream is missing, but, my Mum never wanted me to eat it anyway. There's a *huge* aisle of pringles and chockie biscuits, and even lots of them veggie things that go in salads and pots.

Upstairs wasn't damaged at all, and as well as being chocka full of appliances, kitchen stuff and all that good kit, it is now the defacto computer room, with ol' eagle eyes watching them machines. Server washed down the carpark in the flood?? No worries, mate, we've got backups!

In practice, and in fact, with Connie open for business, Anguilla is also Open For Business and building up for the traditional christmas season.
Revised: December 18, 1999
---