Anguilla News: November 1996
News reports from on the island, as they were posted to the Net:
Here is a picture of Johnno's on Sandy Ground, taken during the day when it isn't full of partying Anguillans and tourists. They have live music on Wednesday, Friday and Saturday nights, as well as Sunday afternoons.
Traditional Foods and Crafts
There was a street fair on Saturday afternoon and evening, November 9th, in The Valley. You could purchase traditional food and drink, such as Mauby (a drink that cleans out your kidneys -- made from the bark of the mauby tree), Seamoss drink (boosts the virility--several people recommended locking up the women after drinking this), Sasparilla, Joe Gumbs soda, fried fish, soups, and more. For example, Anita Martin-Ruan (guidance counseler at the high school), had a booth where you could sample and buy her home-made "Rose's Delight" seasoning: a healthy alternative to salt blended of onion, sweet pepper, stingithyme, seasoned peppers, thyme, mint and other local herbs and spices. Call 4021 if you are intrigued.

There was live entertainment, including a Drum Set made of cracker tins and mounted on a sheet of plywood with wheels. Displays included hand embrodiery so fine it looked like it came from a machine, lace work with scriptural quotes, paintings by local artists, old hand tools, videos on the Hurricane Luis, old newspapers and books by and about Anguillans. Although it started at 4PM, the party lasted late into the night.
First German Cruise Ship
Guten Morgen, Good morning.
Wo is das Schiff, Where is the ship?
Eine bier bitte, One beer please.
Danke, Thank you.
Guten Tag, Good day.
Auf Wiedershen, Good bye, See you again.


The first batch of visitors from the German cruise ship CS Aida were ferried ashore at Sandy Ground to steel-band music. The ship had 360 passengers on this first visit, of whom 200 chose to see Anguilla. They spread out over Anguilla in small groups, to Cove Bay, Junks Hole, Shoal Bay and other pre-arranged activities. Informal reports from around the island indicate that German tourists are abnormally neat and well-behaved, in general, although one pair was observed scouring Shoal Bay with a metal detector (not allowed on Anguilla without a permit). The Aida will visit Anguilla every two weeks through the tourist season.

A group of about 60 went to Upper Shoal Bay for glass bottom boat rides, where Junior Fleming reports that some got quite a surprise: his boat chanced on a 15 foot shark attacking and devouring a turtle, something Junior has never seen before in his entire life.
Johnno's Fishing Trip
Anguilla's most famous beach bar, Johnnos, consistently wins awards as the best in the Caribbean. Now our most famous barkeep offers fishing trips too, according to a brochure I picked up the other day:
Come with "Johnno" and experience the early morning flavor of Anguilla! Enjoy the sunrise while fishing for the enjoyment of life along with good company. We'll be gone until... and come back with a memory full of fun. Don't forget your camera. We offer a variety of cold drinks and homemade sandwiches. For information, call 264-497-2728.
So I called 2728 and talked to Rosie, who told me the boat goes out for 6 hours from 6AM to 12 and costs $350US. You don't need to bring anything (except your camera) as all fishing gear and food is provided.
Tourism Pioneers Honored
Four Anguillan's who were instrumental in the development of tourism were honored this month: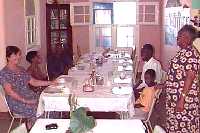 Mrs. Vida Lloyd of Lloyd's Guest House in The Valley, which opened in July 1959 as Anguilla's very first accomodation. Today it is still providing a unique and friendly place to stay for visitors from the Caribbean and around the world, many of whom return year after year.
Lucia Connor of Lucy's Harbour View restaurant in South Hill overlooking Sandy Ground.
Joseph Gumbs of The Quarter who became Anguilla's first travel agent in the 40s and established the first travel agency in 1962.
Harold Cyrenus Richardson of The Valley who began his career as a taxi driver in the 50s and did not retire until 1993.
Also honored were Edward Lake (Cap Juluca, Employee of the Year), Delroy Lake (Carimar, Supervisor of the Year), and Violet Berry for five formative years at the Hotel and Tourism Association.
Lots of Local Entertainment
Change, A Thanksgiving Concert is a gospel explosion with local artists and former calypsonian and Monarch of Antigua, The Mighty Shortshirt. Landsome Bowl, Nov 23, 7:30 PM.

Sacred Dance Choir. Nov 23 at 8pm and Nov 24 at 5PM at St. Augustine's Church. $10EC donation. tickets at Anguilla Drug store.

Run for Your Wife, a play production is at Ruthwill Auditorium, Nov 29-30 and Dec 6-7.
Shopping: Merchants Market
If you drive out of The Valley toward Shoal Bay you first go through the village of Stoney Ground, then you see a sign on the left for Little Dix village. Soon after on your right you will pass a very useful store called Merchants Market. They are a food wholesaler that caters to restaurants, but also sells to the public. You can buy meat and vegetables and fruits and large jars of mayonaise at reasonable prices. Stop in and talk to Roland Webster the manager. Telephone: 264-497-5533. Fax 5530.

When I was planning a barbecue for my hungry nephews I dropped in for the first time and bought a 13.4 pound rib strip steak at 5.18 per pound, US 69.41. It came out of the cold storage room, not the freezer, and was packed in an airtight plastic bag. I did my own portion control, slicing it into steaks. I also bought one nice cabbage at 85 cents and two very nice pineapples for $7.32, although the prices were not as good as for the meat.

Combine Merchants Market with Tropical Flower for Ting in Bulk and you could cater a huge party! (More shopping.)
Bankie Banx Added to Music Site
The Anguilla Home Page has a web site for Anguillian music. This now has information on Bankie Banx, with a sample from his CD Island Boy. If you are visiting Anguilla, you can catch Bankie at his beach place, The Dune on Rendevous Bay in the West End (near Sonesta).
Technical Questions from a Reader

Hi, Bob.  We're moving to Anguilla soon. 
We've been reading your news for months and really, really enjoy it.  
I have some computer questions:  We have an HP  Pavilion PC. Other
than a surge protector will I need anything special to plug it in?

I would bring a UPS for your computer, plus surge protectors with positive blowout indicator (a light that is on if the protector is still good) for TV, stereo, microwave, radio, anything electronic. Our power is good by Caribbean standards, not so by USA standards. I also have a line conditioner but since our neighborhood was rewired after Luis I haven't needed it (it is useful for cleaning up the power from a generator enough for computers).
        
Does Anguilla use the same phone jack as the US or will I need to 
have the PC refitted? 

Anguilla uses the standard RJ-11 phone jack and standard USA FAX machines. Our phone system is one back from the latest technology (which is why you hear a cutout click when connecting to Anguilla from overseas), but is scheduled to be upgraded someday "soon".

We are going to purchase a scanner (an HP 4p or 4c).  Is it better to 
buy it here and bring it with us?

Bring it with you--no scanners for sale here. My advice is always to buy something exactly like someone you know or a neighbor. Since I have an HP Scanjet 4P, you should bring that!

Final question, I noticed in the latest news that you had your 
computer air-freighted rather than sent in your container.  
Why (I assume because computers are somewhat delicate creatures)?  
Who did you use for the shipment.?

The computers were purchased in L.A., while the containter and I were in Vancouver. These were HP multi-user servers (UNIX and MPE) and PCs with 21" monitors. Our container would have been fine. In fact we had an older PC in the container. I think our computers came via American Airlines, but it could have been Airborne Express. They both seem okay. DHL and FEDEX are very reliable.
Low Rainfall!?
In spite of the fact that Anguilla is lushly green and wet looking, the Meteorological Office at the airport has recorded only 27.68 inches of rain in the first 9 months of the year, much less than last year. The month of July with Hurricane Bertha was highest with 9.28 inches. The month of April was lowest so far at 1.21 inches and September had only 3.04 inches (versus 18.23 inches last year with Hurricane Luis).
Artist of the Month: Lynne Bernbaum
Lynne came to Anguilla in February 94 and fell in love with it. So she transferred her art career here from the SF Bay Area and settled in. She works in water colors, mostly Caribbean subjects. The sample here is from a watercolor exhibited and sold at the Governer's Tea in 1996; it is Copyright 1996 by Lynne Bernbaum. Click on it to see a larger graphic.
Lynne has shown her paintings at Courteney Devonish's gallery in August 94 and January 96. The latter was very successful, with 11 of 15 works selling. You may see Lynne's work at the Devonish Gallery, George Hill, Anguilla (telephone:264-497-2949).

Search Index for Anguilla Local News
The Anguilla Local News now has its own index. Look up your favorite restaurant or hotel and see what has happened to it since September 1995. Just click on the Index/Links link on any of these pages.
Palm Grove Bar and Grill
The Sunday New York Times of October 27th has a long article on the restaurants of Anguilla. And smiling out from the newspaper is friendly Nat Richardson at the Palm Grove Bar and Grill in Junks Hole. Here is a snippet from the article:
"The next day, having had enough of haute, we elect local cuisine and turn off Anguilla's main road at a sign that promises 'Happiness awaits at Palm Grove Bar and Grill'. Dodging the goats, we head down a one-and-a-half mile dirt road leading to a grove of palms abutting Junks Hole Beach."

"Happiness awaits within a green, orange and yellow shack at the water's edge. We are greeted by the owner, Nat Richardson, who assures us that he has 'the best lobster on the island.' Best because 'the fishermen know to bring me lobsters right after they are caught'...."
The authors enjoyed their visit to Palm Grove as did we recently. The beach is a long deserted curving stretch of sand. The snorkelling is very interesting out in the bay past the rock. We saw eels and squid and a manta ray, as well as the colorful tropical fishes that you expect everywhere on Anguilla.

Here is their menu on the day we visited (other menus):
Lobster grilled, $25
Lobster salad, $15
Crayfish, $25
Snapper, whole or filet, $15
Ribs, $12
Chicken, $10
Chicken and Ribs, $14
Served with home fries and johnny cakes. Open for lunch and for dinner if you call 264-497-2738 to make a reservation. They are also starting breakfast service upon request.
Shopping: Buying From a Roadside Stand
For a quick snack while driving or as part of your weekly groceries, try stopping at one of the small fruit stands scattered around Anguilla. Some stands are as informal as a woman sitting under a tree and whispering "mangos" as you drive by, so keep your eyes open. Most of the fruit at these stands comes from Dominica, but occassionaly there are very flavorful local green peppers and tasty round light-green eggplants (belonghee).

There are several varieties of bananas sold at these stands which you won't see in your generic supermarket--these are often smaller and green or red when ripe instead of yellow. There are also plantains that look like large bananas but must be cooked like a starchy vegetable. Sometimes they also sell unripe bananas for cooking. The best thing to do is ask the vendor. Tell them you want ripe bananas that are ready to eat, or unripe bananas for cooking, and let them pick out the best.

It's a fun adventure and inexpensive. We just bought 3 lbs of sweet small green bananas for $1.50 EC per pound (58 US cents). (More shopping.)
Scrub Island
Off the eastern tip of Anguilla is uninhabited Scrub Island, about 3 miles square and fun to visit. On the leeward side is a beautiful white sand beach with very calm waters (click picture for a larger graphic). It is the only one in Anguilla that faces completely away from the prevailing winds and seas (since Anguilla runs east-west and the winds come from the east). The interior of Scrub consists of rolling low hills, soft and green more like Scotland than Anguilla. The only inhabitants are wild goats that grow fat in the rainy season and skinny in the dry season (they get water then by eating the pear cactus on the island). Landscape view available.
If you want to take a hike, there are ruined walls (the look like an enclosure for animals), an abandoned airstrip with crashed airplane, and a small derelict resort. Catch a ride over on Mike's or Harry's or Junior's boat from Shoal Bay or Island Harbour. But take some cold drinks with you, because there aren't any bars on Scrub Island.
Question from a Reader
Here is another email query about moving to Anguilla:

     How did you pack your belongings? Normal moving boxes or
     crates or both?  Did everything get there in good shape?

We brought our belongings plus a new car packed in a 40' container. Everything arrived fine. It is a good idea to use professional packers if you ship your goods to Anguilla -- the long trip means that things are constantly rubbing. The pros pack everything in layers to protect from damage.
Customs must be there when you unload--your local agent makes an appointment. When we went through it, they accepted all of our goods as personal belongings, and thus duty free. I pointed out a number of items that were brand new and paid duty on them.
We used a moving company who shipped via Tropical Shipping talk to Sheila Haskins at 264-497-2428) and had Eric Reid at Island Transport (264-497-2679) unload us and do the paperwork. He did an good job, but in order to get my air shipment of computers cleared I finally had to go to customs and let them know I was waiting impatiently. Pat's Trucking is another firm that we have been happy with (264-497-3528).
Other people have moved here in their suitcases and just sent a few boxes down via UPS and Tropical.
Quick Lunch or Dinner at Chick-King
The Chick-King Restaurant in The Valley, behind the public market, is a good place to eat in or take out. They specialize in Fried Chicken and great johhny cakes, but also serve local food such as stew goat, curried chicken, and always rice and peas. The cook is Pamela (rhymes with Carmela) and she will be glad to discuss her dishes with you. To have your lunch or dinner ready for pickup, or to request a special pastry for dessert, call Chick-King at 264-497-5410.
Seagrapes Grow Along the Shore
A common plant along Anguilla's coast is the Sea Grape or Coccoloba uvifera. In exposed areas you find it as a low bush, but in protected areas it can grow into a large tree. The leaves are distinctively round and up to 8 inches across, with a smooth leathery feel. The fruit is not really a grape, but it is edible. Although sour, it can be made into preserves.

Anguilla News Tidbits
Keene Enterprises has upgraded their building by putting on new bright blue and white tile. Very effective. It is located across the street from Cable and Wireless.

Cable and Wireless has landscaped the dirt space in front of their building-will look much less scruffy when it grows in.

Denesha Pogson, the little girl from White Hill, is back from New York with the hole in her heart sewn up and a damaged valve repaired. She is now so healthy she looks like a different person.

The Soroptimist Club celebrated the 75th anniversary of their service club by donating 75 books to the children's section of the library. They do a lot of good work in Anguilla, including creation of a day care center (located behind the new library building.)

Harry McCrory has retired as Anguilla's Deputy Governer, replaced this month by Bob Harris. Mr. Harris has worked in the region for the last two years, including a stint on Montserrat after the volcano disrupted the island. He has previously served in Turkey, Malawi, the Soviet Union, Ireland, Brunei, and France.

On November 10th up to 600 visitors from a German cruise ship will come ashore via launches in Sandy Ground. This is the first time Anguilla has had such a large group from a cruise ship. The visitors will spread around the island on taxis to see our beaches, etc. These visits will repeat twice monthly until March 30th. The Government has said they will be watching experiment closely.

The Rocky Hill Pig Farm has opened in Welches--see their sign on the road to Island Harbour. Joseph and Ken Vanterpool currently have 120 pigs, but plan to double that in the next year. They will supply Ashley's and Proctors Supermarkets.
Shopping: "Beach Stuff"
Beach Stuff has reopened in South Hill in a cute West Indian building. They sell the cool comfortable clothes that you need on vacation in Anguilla, plus snorkels, bathing suits and tourist stuff. Look for their sign on the main road in South Hill. You turn north on a side road toward "Back Road". Roads in Anguilla don't usually have official names or signs, but everyone calls the cliff road overlooking Sandy Ground. Telephone: 264-497-6526. More Shopping.

. . . continue virtual vacation (preceding month)





---